This recipe for canestrelli biscuits makes it easy to create this tasty Ligurian treat – Mario Matassa shares his technique to show us how its done…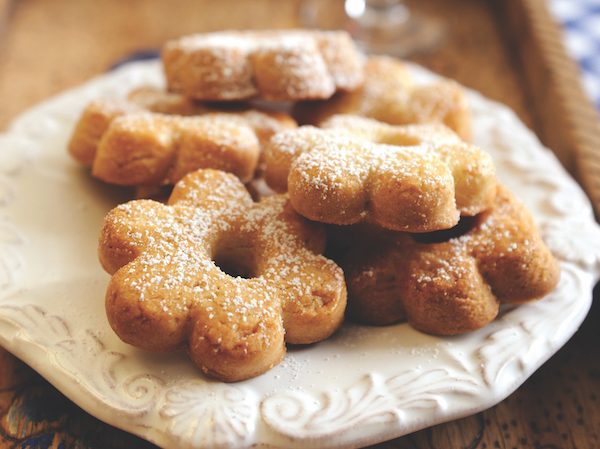 These biscotti would traditionally have been twice cooked (bis-cotti), resulting in a crisp exterior and crumbly interior. Canestrelli can be bought today, fresh from the ovens, in any good bakery in Liguria:
Serves 8-10
Preparation time 10 minutes, plus resting
Cooking time 20 minutes
Ingredients:
• 300g unsalted butter
• 500g plain flour
• 2 free-range egg yolks
• 180g caster sugar
• extra caster sugar for serving
Instructions:
1 Melt the butter and then set it aside to cool. Place the flour in a large bowl and add the cooled butter and the two free-range egg yolks.  
2 Mix everything together well to obtain a smooth dough. Flatten the dough slightly and then wrap it with greaseproof paper.  
3 Put the dough in the fridge for at least 30 minutes to rest. This will make it easier to roll.  
4 Roll the rested dough to a thickness of 1cm and, using a flower-shaped cutter (preferably with seven points), cut the biscuit shapes. 
5 Use the leftover egg whites to brush the tops of the biscuits. 
6 Place on a lined baking tray and bake in a preheated oven at 165°C/Gas Mark 3 for 20 minutes, or until golden.  
7 Cool the canestrelli on a baking rack and dust with icing sugar before serving

You can find more Italian recipes from Cinque Terre here
And there are plenty more delicious Italian-inspired recipes here
Tags:
Baking
,
biscuits
,
food
,
Food & Wine
,
Italian Baking
,
Italian food
,
Italian Recipes
,
Italy Food
,
Recipes