Subscription Offers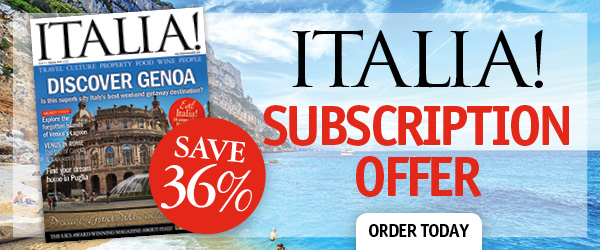 Your Italia! subscription offer
Italia! is the award-winning magazine for everyone who has a passion for Italy. Each month, you¹ll find a wide variety of beautifully photographed and intelligently written articles to inspire and inform you. Covering every aspect of Italian life, from travel, holidays and property to food, wine and culture, we bring Italy closer to English-speaking readers across the world.
Subscribe to Italia! today to receive all of these great benefits:
Get all 12 issues delivered direct to your door
Never miss an issue ever again
Pay by convenient Direct Debit
Save 36% on the price in the shops (just £3.15 per issue)
Great offers for international delivery!
And pay in your local currency too!
Europe: Just €35.28 every 6 months – saving 30%
USA/Canada: Just $45.00 every 6 months – saving 30%
Australia: Just AUD$58.25 every 6 months – saving 30%
Rest of World: Just £28.99 every 6 months
Offer code ITL1902WEB. Offer ends 31 March 2019. All savings are based on the local cover price for UK, Europe, USA/Canada and Australia. The rates listed above are available on recurring payment (by Direct Debit for UK or continuous credit card for non-UK) every 6 months only. Your subscription will start with the next available issue. You will receive 12 issues of Italia per year.
---
Download the free Italia! app
We also have a fantastic Italia! app where you can download the latest issue of Italia! or subscribe to the digital edition.
Subscribe to the Italia! app today and you will save 17%
Why subscribe to the app?
Save 17% on the issue price
Every issue direct to your device the day it goes on sale in the UK
Read your magazines on virtually any device at any time – your subscription will allow you to read your magazines, on your iPad, iPhone, Android device, Kindle Fire, PC and on Windows 8
Click here to subscribe to the app