Subscription Offers
FREE 3 GOLD MEDAL, 12 YEAR OLD BALSAMIC from Vorrei
When you subscribe to Italia!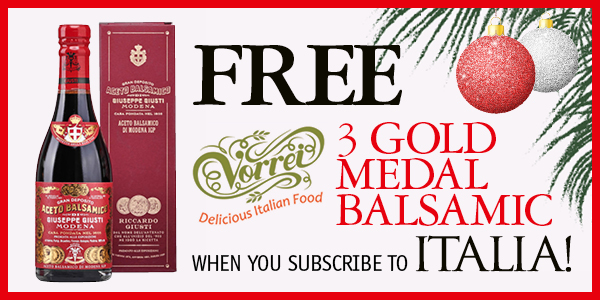 Italia! magazine is delighted to offer our UK readers a fantastic gift offer this Christmas! Subscribe over the festive season and we'll send you a FREE 3 Gold Medal, 12 year old balsamic vinegar (worth £21.99)  – in conjunction with vorrei.co.uk.
Your special Christmas offer:
FREE 3 Gold Medal Balsamic from Vorrei, worth £21.99
You pay just £22.99 by annual Direct Debit (6 issues)
Never miss an issue
FREE delivery direct to your door
Free digital issue to read whilst you wait for your first issue to arrive
🌎 Not in the UK?
Unfortunately the free gift offer is only available in the UK. But we have a great discount offer for you instead!
USA/Canada – $46.75 every 6 months – SAVING 35%
Europe – €36.99 every 6 months – SAVE 35%
Australia – $69.99 AUD every 6 months – SAVE 35%
Rest of World – £38.99 every 6 months – SAVE 35%
Terms and conditions: Offer code X20ITLWEB
Italia! is published 6 times per year. Saving is based on the UK cover price and is only available to UK subscribers paying by annual Direct Debit. The free gift is only available to UK annual Direct Debit orders and the minimum term is 12 months. The gift will be sent to the person paying for the subscription. Gifts are subject to availability and we reserve the right to substitute the gift with an alternative of similar value if stocks become exhausted.
---
Want to know more about Italia magazine?
Check our previous issues, click here to view back issues of Italia! magazine.
---
Download the free Italia! magazine app
We also have a fantastic Italia! magazine app where you can download the latest issue of Italia! magazine or subscribe to the digital edition.
Click here to subscribe to the app