Subscribe to Italia!
Immerse yourself in every aspect of Italian life with a subscription to Italia!
Italia! is the award-winning magazine for everyone who has a passion for Italy. Published bi-monthly, you'll find a wide variety of beautifully photographed and intelligently written articles to inspire and inform you in every single issue! Covering all things Italy, from travel, holidays and property, to food, wine and culture, we bring Italy closer to English-speaking readers across the world.
Why subscribe to Italia!?
Get every issue of Italia! delivered direct to your home or your device
Save money on the cover price and never miss an issue again
Catch up on any back issue or special for less with your 10% discount
Expand your interests with Anthem discounts
Receive travel tips, property advice, and delicious recipes straight to your inbox
Our latest Italia! subscription offer…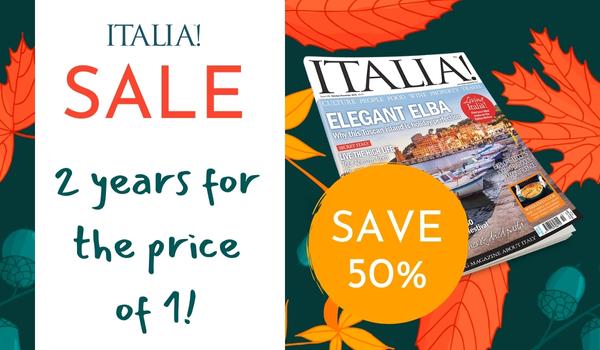 Save 50% when you subscribe to Italia! today
Just like that, autumn is creeping up on us. It's such a vibrant season – always the opportunity to take stock and make plans for the future. This autumn, you can plan with Italia! magazine, safe in the knowledge that you have two years' worth of inspiring photography, Italian recipes, expertly written articles and travel advice on its way to you!
Save 50% and get two years' worth of Italia! magazine for just £37.50. This offer won't be around for long, so order today!