Mario Matassa's recipe for trofie with leeks, tomatoes and basil is a delicious taste of Liguria – known in Italian as trofie alle ligure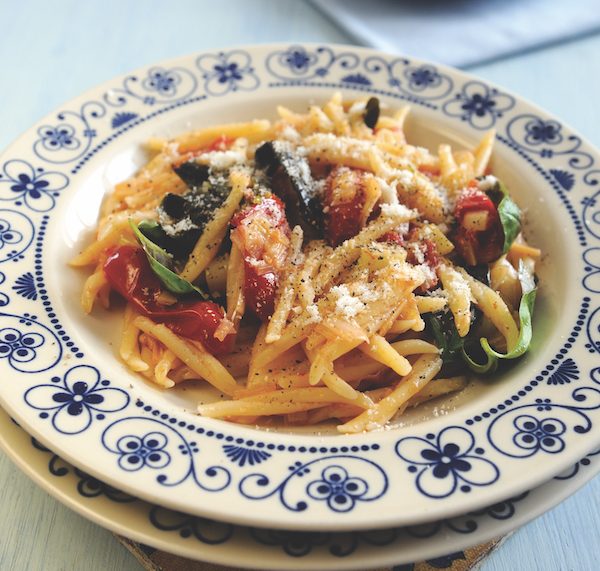 The area around Cinque Terre, Liguria has a long-standing tradition of dried pasta. Trenette, long, thin linguine-like pasta, are served with pesto, potatoes and green beans. Equally popular today are trofie, as used in this recipe:
Serves 4
Preparation time 10 minutes
Cooking time 25 minutes
Ingredients:
• 2 medium leeks
• 3 tbsp extra-virgin olive oil
• 350g baby plum tomatoes
• 200ml dry white wine
• 320g trofie pasta
• a large bunch of basil leaves
• salt and pepper
• Parmesan cheese for serving
Instructions:
1 Finely slice the leeks and place them in a heavy-based saucepan with the olive oil. Cook over a gentle heat for 10 minutes until softened. 
2 Roughly chop the tomatoes and add these to the pan with the white wine. Simmer gently for another 10 minutes. 
3 In the meantime, while the sauce is cooking, bring a large pot of salted water to the boil and add the trofie pasta. If you cannot find trofie pasta, just use pasta of similar size. 
4 When the pasta is cooked, drain and add to the saucepan with the sauce, together with the basil leaves. 
5 Mix well and season with salt and ground black pepper. Serve with grated Parmesan cheese.

You can find more Italian recipes from Cinque Terre here
And there are plenty more delicious Italian-inspired recipes here