The origin of the Carbonara sauce is uncertain: some claim it was brought to Rome from Umbria by members of a secre

tevolutionary society, others attribute it to a noble Neapolitan whilst others say it was developed thanks to bacon and eggs (powder) brought in large quantities to Rome by American GIs.
The tricky part here is to avoid eggs from scrambling due to the heat shock given by the pancetta and the pasta. To avoid this, follow the steps below religiously and place particular emphasis on not overheating the pancetta. You will not be disappointed.
➤Serves 4  ➤ 20 minutes ➤ Easy
Ingredients
150g Pancetta (cubed and smoked)
2 eggs
2 egg  yolks
40g Grana Padano
Black Pepper
Malden Salt
Grated nutmeg
1 clove of garlic (crushed)
2-­3 tbsp. pasta boiling water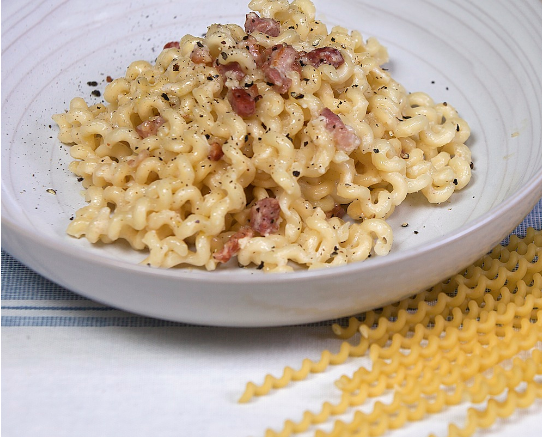 Method
Boil a copious amount of water (at least one litre per 100g of pasta), and when the water boils add roughly 2tbsp. of rock salt, add the pasta and stir well.
The right al dent  time for Fusilli Lunghi is 16 minutes, so to enjoy fully the Garofalo flavour and "bite", stick to the advised cooking time!
Whilst the pasta is cooking, place the pancetta and crushed clove of garlic in a shallow frying pan and cook until the pancetta is crispy making sure you keep the cooking fat.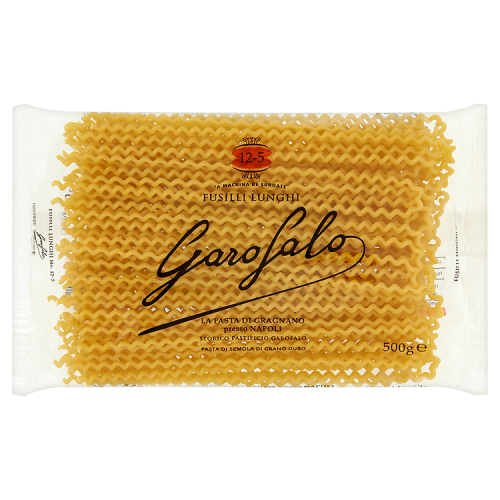 Remove the garlic and set aside.
In a glass bowl, place the 2 eggs and the 2 egg yolks, season (salt and pepper + grated nutmeg*) and beat the eggs well.
Three  minutes  before  the  pasta  is  cooked,  warm the pancetta through making sure it is not too hot because it will scramble the eggs.
Drain the pasta making sure it remains moist.
Add the hot pancetta to the pasta and stir; only then, add the pasta to the egg mixture. Don't worry if the mixture appears wet to start with.