This torta 'mimosa cake' is covered with pieces of sponge cake, reminiscent of the flowers of the mimosa – it is served across Italy to celebrate La Festa della Donna
By Mario Matassa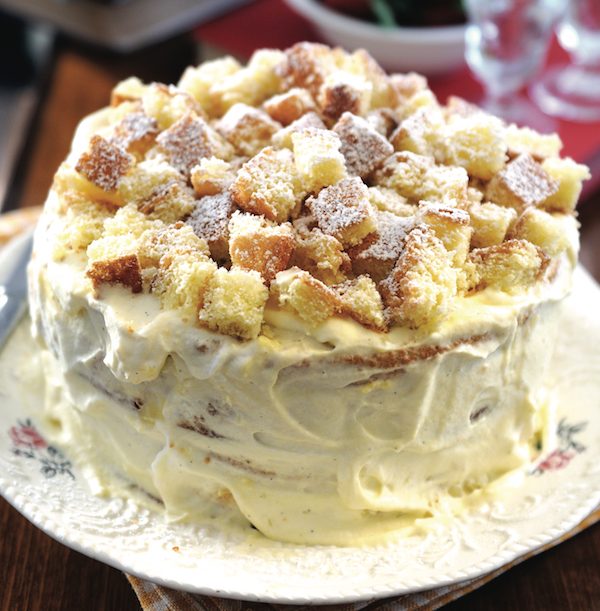 Makes one 22cm cake
Preparation time 20 minutes (plus chilling)
Cooking time 20 minutes
Ingredients:
For the cake
• 4 free-range eggs
• 200g caster sugar
• 200g self-raising flour
For the cream
• 300ml whole milk
• 2 free-range egg yolks
• 1 heaped tbsp plain flour
• 2 tbsp caster sugar
• 250ml cream
• icing sugar, to dust
Instructions:
1 Preheat the oven to 180ºC/Gas Mark 4. First make the cake. Separate the eggs, then add the sugar to the yolks and whisk until thick and foamy. Add the sifted flour and fold in gently. Whisk the whites in a separate bowl to stiff peaks, then fold into the mix. Divide the cake mixture equally between two 22cm greased and lined cake tins and place in the oven for 20 minutes.  
2 While the cakes are cooking, make the cream. Gently heat the milk, but do not boil. While heating the milk, whisk the egg yolks together with the flour and sugar in a bowl. Add a little of the warm milk to the egg mixture and stir well. Add the egg mixture to the rest of the milk and heat until it is gently boiling, stirring all the time. Cook for a few minutes until the mixture thickens, then set aside to cool. Once it is cold, whip the cream until stiff and fold it into the patisserie cream.
3 When both the cream and cake are cool, slice each cake in half so you have four layers in total. Chop one layer into 1cm dice. Spread cream over the other layers and stack them in a tower, then spread cream all over the top and sides of the cake. Decorate the top of the cake with the small sponge cubes and dust with icing sugar.
Find more Italian-inspired recipes here