This delicious swordfish dish (pesce spada alla ligure) from Mario Matassa is a treat for seafood fans, and a real taste of northern Italy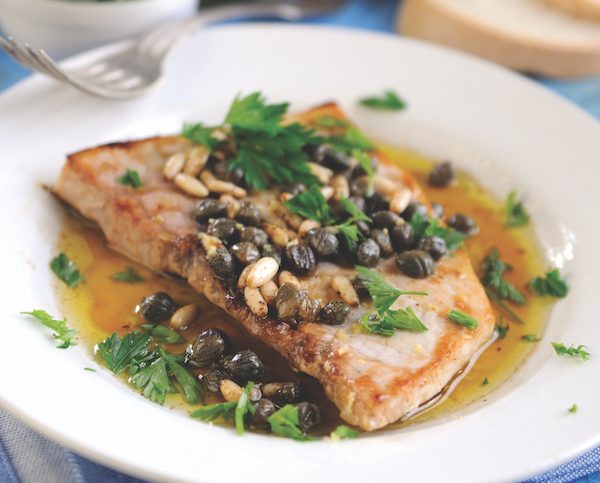 Throughout Liguria, capers, pine nuts and lemons are used to flavour and garnish dishes – as in this swordfish dish. It's always best to use unwaxed, organic lemons:
Serves 4
Preparation time 10 minutes
Cooking time 15 minutes
Ingredients:
• 2 tbsp capers in salt
• 40g pine nuts
• 3 tbsp extra-virgin olive oil
• 2 garlic cloves
• 4 swordfish steaks
• 250ml dry white wine
• 40g pine nuts
• 2 tbsp finely chopped parsley
• lemon wedges to serve
Instructions:
1 Rinse the capers under cold running water to remove the excess salt. 
2 Put the pine nuts in a large, heavy-based saucepan and place over a medium-high heat for a few seconds to toast. Remove and put aside. 
3 Add the olive oil and garlic cloves to the pan. When the oil is hot, add the swordfish. Cook for 2 minutes, then turn and cook for a further 2 minutes.
4 Add the white wine and capers and simmer gently for 5 minutes.
5 Finally, add the pine nuts and parsley. Serve with wedges of lemon.

You can find more Italian recipes from Cinque Terre here
And there are plenty more delicious Italian-inspired recipes here