Mario Matassa shares this recipe for classic stuffed pasta – these tortelli are stuffed with the traditional combination of spinach and ricotta, but you can experiment with other fillings too…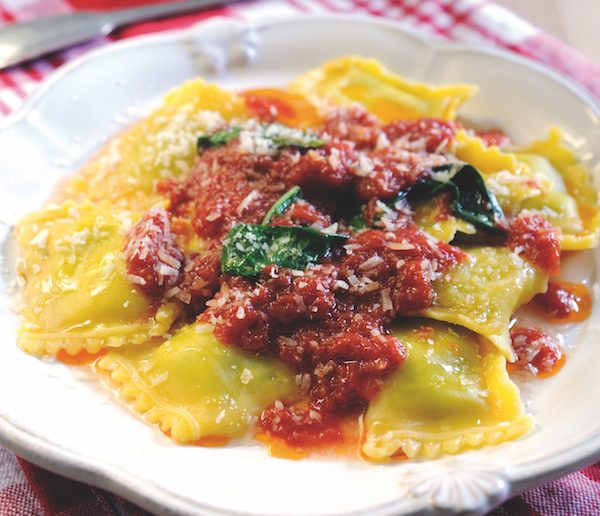 Serves 4
Preparation time 30 minutes, plus resting
Cooking time 10 minutes
Ingredients:
For the pasta
• 200g plain flour
• 2 free-range eggs, beaten
For the filling
• 500g spinach, wilted
• 500g fresh ricotta
• 100g Parmesan, grated
• salt and freshly ground black pepper
• a pinch of nutmeg
For the sauce
• 250ml passata
• a handful of fresh basil
• 2 tbsp olive oil
Instructions:
1 Begin by making the filling for the tortelli. First wilt the spinach, then dry and finely chop it. In a large bowl, mix together the ricotta, spinach and Parmesan. Season well, add some nutmeg, then set aside.
2 To make the pasta, place the flour on the worksurface and make a well in the centre. Add the eggs to the well. Slowly draw in the flour until you can knead the pasta. Knead the pasta for a few minutes, until smooth, then cover with a tea towel and leave to rest for 30 minutes. 
3 Using a pasta machine, or by hand, roll out the pasta as thinly as possible – ideally about 1mm. Cut the large piece of pasta into 5cm strips ready to be filled. Next, place teaspoons of stuffing on half of the pasta strips, leaving a gap of about 3-4cm between each. Lay another sheet of pasta over the top of the filling. Using your hands, gently press the pasta down around the filling to seal and remove any air bubbles. Use a pastry cutter to cut out the tortelli. They can be either square or rectangle in shape.  
4 Make the sauce by heating the oil in a saucepan, add the passata, basil and seasoning, then simmer for 5-10 minutes. 
5 Meanwhile, cook the tortelli. Bring a pan of salted water to the boil, add the tortelli and cook for 3-5 minutes (depending on the thickness of your pasta). Serve immediately, tossed with the tomato sauce.
Find more Italian-inspired recipes here