Cuttlefish (seppia) is very popular in Italian cuisine and its ink can be bought in small packets in supermarkets or Italian speciality stores – here's a great recipe to showcase its flavour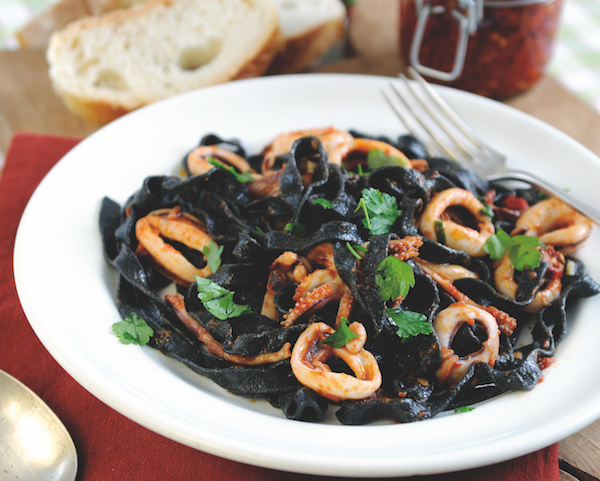 Serves 4
Preparation time 45 minutes, plus resting
Cooking time 10 minutes
Ingredients:
• 400g plain flour
• 4 medium free-range eggs
• 1 sachet of cuttlefish ink
For the spicy squid sauce
• 4 tbsp extra-virgin olive oil
• 1-2 fresh red chilies, finely chopped
• 2-3 sun-dried tomatoes, finely chopped
• 1 garlic clove, peeled, crushed
• 1 tbsp tomato purée
• 3 cleaned squid, prepared, sliced
• a handful of chopped flat-leaf parsley
Instructions:
1 Make the fresh egg pasta as per the instructions here, adding the cuttlefish ink with the eggs. Bring a pot of salted water to the boil.
2 While you are waiting for the water to boil, heat the oil in a heavy-based frying pan. Add the chilies, sun-dried tomatoes, garlic and tomato purée to the pan, stir, and cook for 1 minute.
3 Just as the pasta water is coming to the boil, add the sliced squid to the frying pan and sauté over a medium to high heat for 2-3 minutes.
4 Once the squid is in the pan, add the pasta to the water. As soon as the pasta is cooked, drain it and add it to the frying pan containing the squid. Mix everything together well and add a final sprinkling of finely chopped parsley to finish. Serve immediately.
Click here for more on pasta (plus links to more delicious recipes!)