In Mario Matassa's 'brasato al Barolo' the meat is slow-cooked, which makes for mouth-wateringly tender meat, flavoured with this quality wine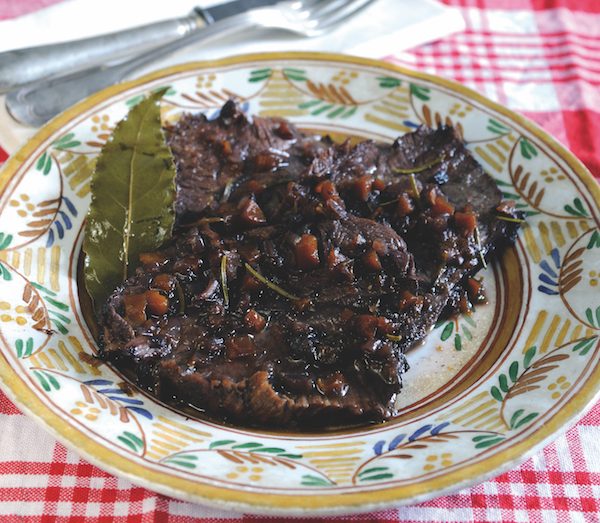 Serves 4-6
Preparation time 10 minutes
Cooking time 3 hours, 10 minutes
Ingredients:
• 1 onion, peeled, finely diced
• 2 celery stalks, finely diced
• 1 carrot, peeled, finely diced
• olive oil
• 1 garlic clove, peeled, chopped
• 1.5kg joint of braising beef, in one piece
• a sprig of rosemary
• 1 bay leaf
• a few sage leaves
• 1 bottle of Barolo wine
• salt and freshly ground black pepper
Instructions:
1 Place the onion, celery and carrot in a large casserole with a few tablespoons of oil and the garlic. Gently fry the vegetables for around 10 minutes, until they have softened. 
2 Remove the vegetables from the pot with a slotted spoon, turn up the heat and add the beef. Brown the joint all over to seal, then add the herbs and season well. 
3 Place the vegetables back into the pot, pour in the wine and bring to the boil. Once boiling, lower the heat to a simmer, place the lid on the pan so that just a little bit of steam can escape, and leave to cook for 2½-3 hours. 
4 Once cooked, remove the meat from the sauce and slice. Serve with the gravy from the pot. If you prefer a smoother, less rustic sauce, you can blitz the vegetables together with the gravy using a hand-held blender after you've removed the meat.
Find more Italian-inspired recipes here