Zuppa di pesce (fish soup), is an Italian staple with endless variations. Although this dish looks elaborate it's really very simple, as Mario Matassa demonstrates…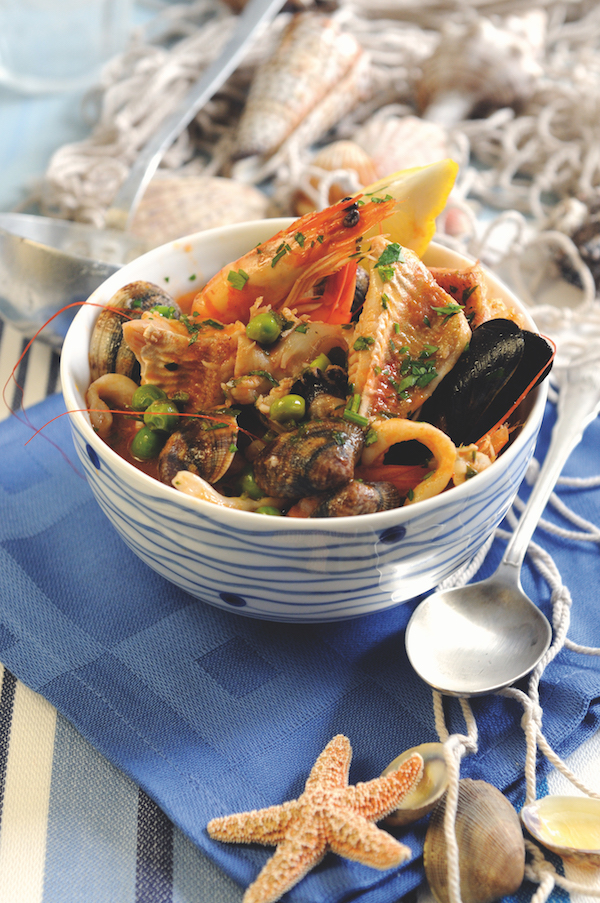 Serves 4
Preparation time 5 minutes
Cooking time 15 minutes
Ingredients:
• 6 tbsp extra-virgin olive oil
• 2 garlic cloves, peeled
• 700g fish pieces such as sea bass, scorpion fish, monkfish, sea bream (if you don't want to clean your fish yourself, ask your fishmonger to do
this for you)
• 6 small squid, prepared (ask your fishmonger to make ready to eat)
• 150ml dry white wine
• 250ml finely chopped plum tomatoes
• 100g fresh peas, or frozen and defrosted
• 500g mussels, cleaned
• 350g clams, cleaned
• 10 large prawns, shell left on
• 1 tbsp finely chopped flat-leaf parsley
• Salt and freshly ground black pepper
Instructions:
1 Heat the olive oil in the pan with the garlic cloves (either left whole or crushed depending on taste). Add the fish pieces and the squid, which has been roughly chopped. Cook these for a few minutes until they are just gaining a little colour.
2 Add the white wine and allow this to evaporate for a minute. Then add the tomatoes and peas and allow these to simmer for about five minutes.
3 Finally, add the mussels, clams and prawns, cover with the lid and cook for 2-3 minutes. When all the shells have opened, the fish is cooked. Season to taste. Finish by adding the chopped parsley. Serve immediately with bruschetta or crusty ciabatta bread.
TIP Remember that you will need a saucepan with a tight-fitting lid that is comfortably large enough to fit all the fish and shellfish you have bought.