Give pasta a glorious colour and add a Mediterranean kick to the flavour using tomato purée… Mario Matassa's spaghetti recipe shows you how!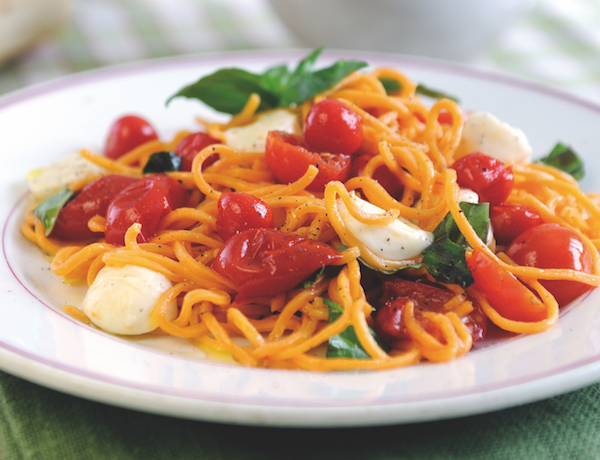 Serves 4
Preparation time 40 minutes, plus resting
Cooking time 10 minutes
Ingredients:
• 400g plain flour, plus a few extra tablespoons if necessary
• 4 medium free-range eggs
• 1 tbsp tomato purée
For the tomato and mozzarella sauce:
• 250g mini mozzarella balls, cut in half
• 200g cherry or baby plum tomatoes
• a handful of fresh basil leaves
• 4 tbsp extra-virgin olive oil
• freshly ground black pepper
Instructions:
1 Begin by making egg pasta according to the recipe here, adding the tablespoon of tomato purée along with the eggs. Then bring a large pan of salted water to the boil.
2 While you are waiting for the water to boil, make the sauce. Heat the olive oil in a large, heavy-based frying pan, then add the cherry tomatoes. Fry over a medium heat for 2-5 minutes, until they begin to soften.
3 When the water is boiling, add the pasta. Taste to ensure that the pasta is cooked before draining, but be aware that fresh pasta only takes seconds to cook once the water returns to the boil. Once the pasta has been drained, add it to the tomatoes, then stir in the mini mozzarella balls. Sprinkle generously with basil and freshly ground black pepper and serve immediately.
Click here for more on pasta (plus links to more delicious recipes!)
Tags:
food
,
Food & Wine
,
Italian food
,
Italian Recipes
,
Pasta
,
Recipes
,
spaghetti
,
Tomatoes