Green spinach pasta is probably the most popular and widely used flavoured pasta and this lasagne from Mario Matassa is a great way to showcase its charms…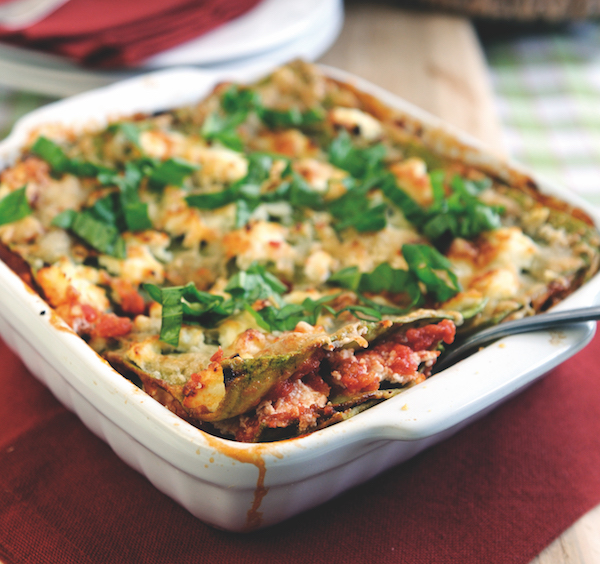 Serves 4
Preparation time 45 minutes, plus resting
Cooking time 25 minutes
Ingredients:
• 350g plain flour
• 3 medium free-range eggs
• 100g fresh spinach
For the sauce
• 500ml chunky tomato sauce
• 500g fresh ricotta, broken into pieces
• a handful of basil leaves, torn
• 150g parmesan, grated
• sea salt and freshly ground black pepper
Instructions:
1 To make the pasta, begin by wilting the fresh spinach leaves in a pan of boiling water. Once wilted, place the spinach in a fine sieve and squeeze out as much water as possible. Chop the spinach finely, then set aside until it has cooled. Make the pasta as per the instructions here, adding the spinach when you add the eggs.
2 Before assembling the lasagne it is necessary to blanch the pasta sheets. To do this, bring a large saucepan of salted water to the boil and add a few pasta sheets to the pot for just 30 seconds. Lift them out gently with a slotted spoon and set aside until needed. Be careful they don't all stick together after blanching – you may want to blanch them in batches as you are assembling the lasagne, or alternatively rub the blanched sheets with a little oil.
3 Preheat the oven to 180ºC/Gas Mark 4. Using a large baking dish, around 20x30cm, spread a few tablespoons of the tomato sauce over the base. Place a few lasagne sheets on top, then spread with more tomato sauce and dot all over with ricotta. Add a few torn basil leaves, a sprinkling of parmesan, and a grind of black pepper. Add another layer of lasagne sheets and top with the tomato sauce, ricotta, parmesan, basil and pepper. Keep adding layers, until all the ingredients are used up. Bake in the oven for 20 minutes, or until the filling is piping hot.
Click here for more on pasta (plus links to more delicious recipes!)