The variations of recipes for sea bream (orata) are countless, depending on where in Italy you happen to be. Mario Matassa's  – baked in an oven with potatoes – is a classic version…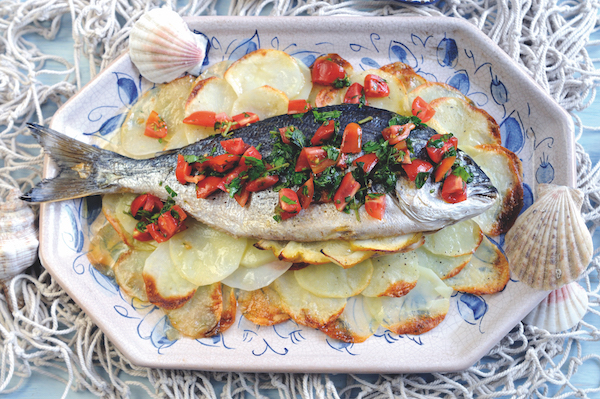 Serves 2
Preparation time 10 minutes
Cooking time 20-25 minutes
Ingredients:
• 4 tbsp extra-virgin olive oil
• 2 large potatoes, peeled and sliced wafer thin
• Sea salt and freshly ground black pepper
• 1 sea bream (weighing about 500g)
• 2 large plum tomatoes
• 1 tbsp finely chopped flat-leaf parsley
• 1 tbsp finely chopped oregano
• 1 tbsp finely chopped basil
Instructions:
1 Preheat the oven to 180°C/Gas Mark 4. Begin by trickling just a little olive oil into an oven dish large enough to accommodate the fish. Arrange the potato slices on the bottom of the oven dish, season generously with salt and pepper and pour over a little oil.
2 Place the clean (but still whole) sea bream over the potatoes and season the fish. Place the dish in the oven for 20-25 minutes.
3 While the fish is cooking make the tomato salsa by finely dicing the tomatoes. Place these in a bowl and add the herbs, the remaining olive oil, and season. Stir everything together. When the fish is ready, spoon over the salsa and serve immediately.