Mario Matassa's simple and satisfying mushroom pasta dish is the perfect solution for a tasty midweek meal. Try it tonight!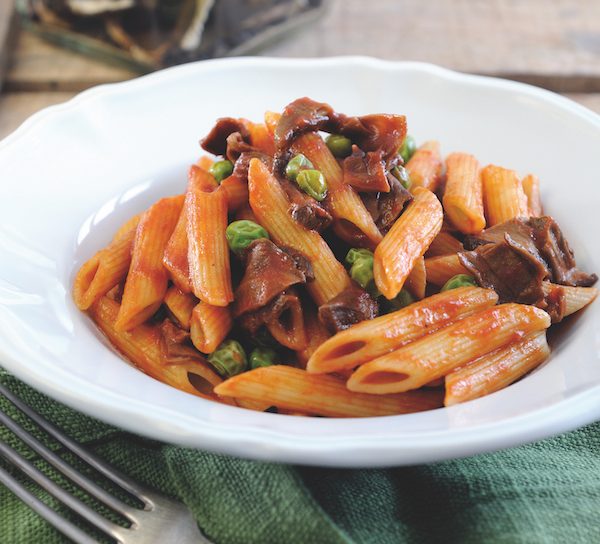 In Italy porcini mushrooms reign supreme, but this pasta dish can also be made using other varieties, depending on what you have in store (just skip the soaking step if using fresh rather than dried).
Serves 2
Preparation time 20 minutes
Cooking time 15 minutes
Ingredients:
• 160g penne pasta
• 30g dried porcini mushrooms
• 100g peas
• 200ml tomato passata
• 2 tbsp olive oil
• grated Parmesan, to serve
• salt and freshly ground black pepper
Instructions:
1 Rinse the dried porcini quickly under some cold running water to remove the grit, then place them in a bowl and cover with boiling water. Leave to soak for 5 minutes.  
2 Remove the mushrooms from the water and chop roughly. Do not discard the water. Place the oil in a frying pan and once hot add the mushrooms. Sauté for a few minutes. 
3 Strain the water that the mushrooms were soaking in to get rid of any grit and add this to the pan together with the passata. Leave to simmer for 10 minutes. If the mixture looks like it is getting too dry, add a little extra water. 
4 While the mushrooms are cooking, bring a large saucepan of salted water to the boil, add the penne and cook according to packet instructions, until al dente. Just before the pasta is ready, add the peas to the mushrooms and stir them together. Drain the pasta, then add it to the mushroom sauce, stirring everything together well. Serve with a scattering of Parmesan to taste.

You can find more Italian recipes from foraged foods here
And there are plenty more delicious Italian-inspired recipes here