This combination of caramelised figs and crisply barbecued prosciutto is irresistible. The figs are best cooked on a barbecue, but you can use a stove-top grill pan or a grill – just get the right amount of charring on the figs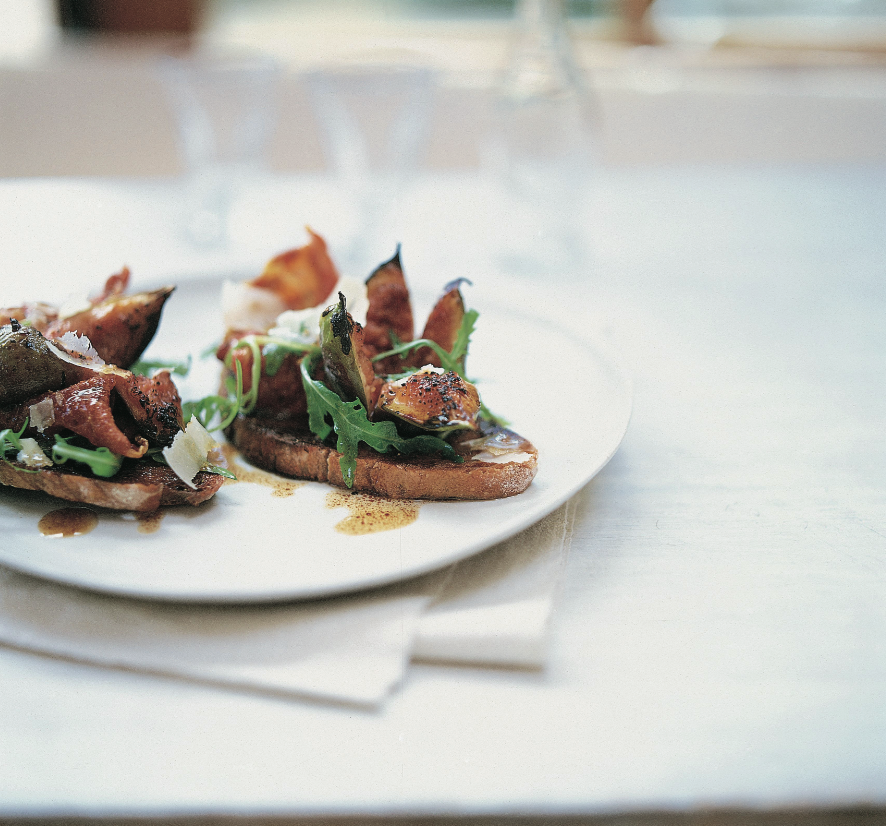 Method
To make the bruschetta, grill, toast or pan-grill the bread on both sides until lightly charred or toasted. Rub the top side of each slice with the cut garlic, then drizzle with olive oil. Keep them warm in a low oven.
Take the figs and stand them upright. Using a small, sharp knife, make two cuts across each fig not quite quartering it, but keeping it intact at the base. Ease the figs open and brush with balsamic vinegar and olive oil. Put the figs cut side down on a preheated barbecue or stove-top grill pan and cook for 3-4 minutes until hot and slightly charred – don't move them during cooking. Alternatively, put the figs cut side up under a really hot grill until beginning to brown and heated through.
While the figs are cooking, put half the slices of prosciutto on the barbecue or stove-top grill pan, or under the grill and cook until frazzled. Remove and keep warm while cooking the remaining slices. Put two figs, three pieces of prosciutto and some rocket on each slice of bruschetta. Sprinkle with Parmesan shavings and drizzle with olive oil. Season to taste with salt and pepper and serve immediately.
Ingredients
Serves 4
4 thick slices of country bread,
preferably sourdough
2 garlic cloves, halved
Extra virgin olive oil (for drizzling and brushing)
8 ripe fresh figs
2 tbsp balsamic vinegar
12 slices of prosciutto
100g rocket sea salt and freshly ground black pepper
Shavings of Parmesan cheese (to serve)
Tags:
Bruschetta
,
Fig
,
food
,
Italia Recipe
,
Italian Recipe
,
Recipes
,
Rocket
,
tomato