Bresaola is air-cured beef fillet, which works well in a salad because the olive oil moistens the cured beef. Mario Matassa shares his recipe here…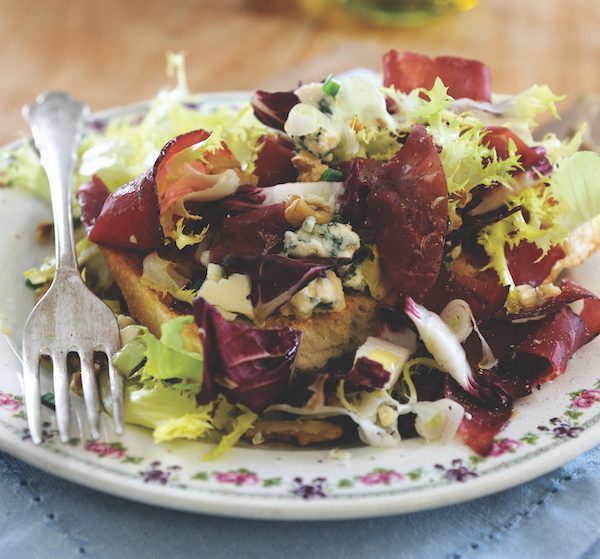 Bresaola comes from the Valtellina and the Valchiavenna in Lombardy. This is an easy and delicious recipe to try, but be sure to serve your bresaola salad soon after it is prepared so the beef doesn't dry out.
Serves 4
Preparation time 10 minutes
Cooking time none
Ingredients:
• 1 small head of lettuce
• 100g blue cheese
(such as gorgonzola)
• 2 small spring onions
• 50g shelled walnuts
• 120g thinly sliced bresaola
• 3 tbsp extra-virgin olive oil
• salt and freshly ground black pepper
• 4 pieces of toasted focaccia, to serve
Instructions:
1 Rip the salad leaves into bite-sized pieces and place in a large bowl. Add the crumbled blue cheese, chopped spring onions and crushed walnuts. Tear or slice the bresaola into strips and add this to the bowl too. 
2 Dress with olive oil and season with salt and freshly ground black pepper. Toss everything together well and serve on top of slabs of toasted focaccia.
There are plenty more delicious Italian-inspired recipes here
Tags:
food
,
Food & Wine
,
Italian Recipe
,
Recipes
,
salad
,
salad recipe