These golden balls of deep-fried dough smothered in honey and decorated with candied peel make a wonderful centrepiece for the festive table, says Mario Matassa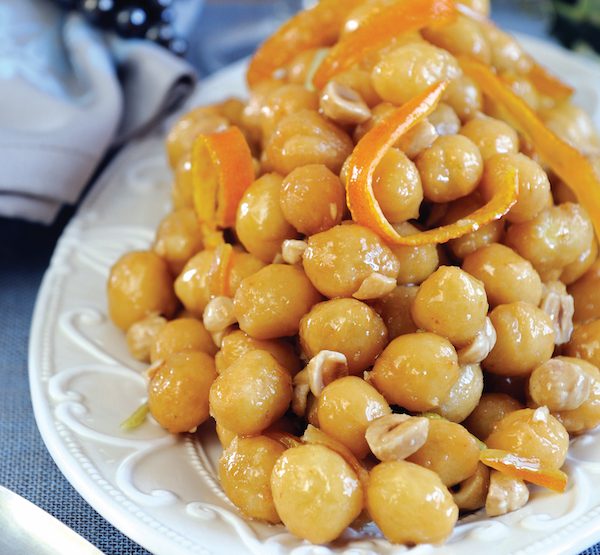 Struffoli, from Naples, are prepared and eaten all over Italy at Christmas. Here's how to make them:
Serves 6-8
Preparation time 30 minutes, plus resting
Cooking time 45 minutes
Ingredients:
• 300g plain flour
• 2 free-range eggs
• 150g unsalted butter at room temperature
• ¼ tsp baking powder
• grated zest of 1 orange
• 2 tbsp brandy
• 1 litre of oil, for frying
For the sauce
• 200ml runny honey
• 100g candied peel, roughly chopped
• 100g roasted hazelnuts, roughly chopped
Instructions:
1 To make the struffoli, mix together the flour, eggs, butter, baking powder, orange zest and brandy. Place the mixture on a floured surface and knead gently to form a dough. The dough should be quite sticky. Place the ball of dough back into the bowl and leave to rest in the fridge for at least half an hour.
2 Rip off chunks about the size of a golf ball and, on a lightly floured surface, roll the chunks into long 'snakes' about 1cm in width. Tear off pieces about 1cm in length from these snakes and roll in the palms of your hand to form a small ball. Continue until all the dough is used up. 
3 Pour the oil into a large, high-sided frying pan and heat. Once the oil is hot, carefully toss the struffoli in small batches into the oil and fry until golden. Remove with a slotted spoon and place on kitchen paper. Continue to cook all the struffoli. 
4 To make the sauce, heat the honey in a large saucepan. When the honey reaches boiling point, remove from the heat and add the struffoli and three-quarters of the candid peel and hazelnuts. Stir gently to coat the struffoli, then arrange on a dish. Decorate with the rest of the hazelnuts and candied peel.
You can find more Italian Christmas recipes here
And there are plenty more delicious Italian-inspired recipes here
Tags:
food
,
Food & Wine
,
Italian Dessert
,
Italian food
,
Italian Recipe
,
Recipes