Full of the strong flavours that are typical of the region, this Campanian dish will evoke memories for anyone who has ever visited Naples – Here's Mario Matassa's take on 'reinforcing salad':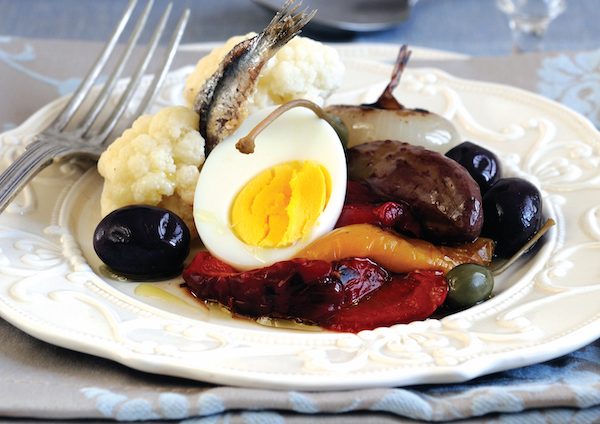 Insalata di rinforzo ('reinforcing salad') hails from Campania in the south of Italy. Its name refers to its capacity to reinforce the appetite. It can also be prepared well in advance and is popular at Christmas…
Serves 6-8
Preparation time 15 minutes
Cooking time 25 minutes
Ingredients:
• 3 red or yellow peppers
• 1 cauliflower
• 4 free-range eggs
• 150g baby gherkins 
• 200g black olives
• 150g large pickled onions
• 80g salted anchovies
For the dressing
• 6 tbsp extra-virgin olive oil
• 3 tbsp white-wine vinegar
• salt and freshly ground black pepper
Instructions:
1 Preheat the oven to 200˚C/Gas Mark 6. Put the peppers on a baking tray and place in the oven for 15 minutes, until the skins are blackened. Remove from the oven and place in a covered bowl. Leave to cool. Once cooled, peel the peppers and slice into strips. Set aside. 
2 Break the cauliflower into florets and boil in a saucepan of salted water until tender, but still retaining a bite. Set aside to cool. 
3 In the meantime, boil the eggs for around 8 minutes until hard boiled, then peel and set aside to cool. 
4 To finish the dish, arrange the cauliflower on a large serving plate, place the roasted peppers on top of the cauliflower, then scatter over the remaining ingredients. Finish with the hard boiled eggs, cut in half. 
5 To make the dressing, simply whisk together the oil and vinegar, then season generously. Pour the dressing into a serving jug and allow guests to dress their own salad to taste.

You can find more Italian Christmas recipes here
And there are plenty more delicious Italian-inspired recipes here
Tags:
food
,
Food & Wine
,
Italian food
,
Italian Recipes
,
recipe
,
Recipes
,
salad