Mary Novakovich visited Calabria and discovered the full extent of the locals' passion for peperoncino in a region of Italy where the love of this fiery fruit reigns supreme.
Images by Adam Batterbee unless otherwise stated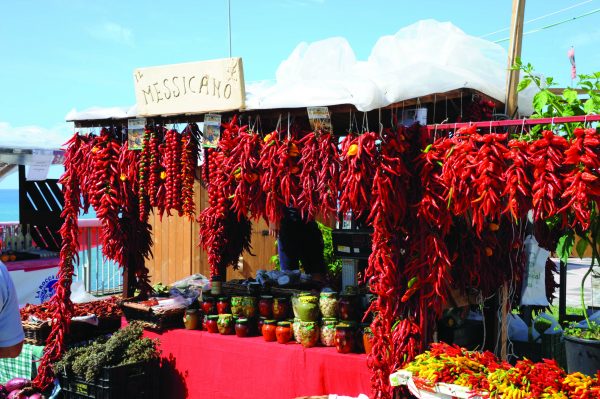 Of the colours of the Tricolore, red is the one that best sums up Calabria. Not through any political bent, but because of the glossy red of the peperoncino calabrese. Long, thin, sinuous – this chilli pepper is the dominant flavour of this sun-baked southern Italian region. It's found everywhere, this so-called droga dei poveri (drug of the poor). In lean times – and these were quite frequent in Calabria's long history – chilli peppers worked as an appetite suppressant when food was scarce. Nowadays, of course, they leave you wanting more, especially as the Calabrese also call peperoncini the Viagra dei poveri (tongue slightly in cheek).
Go anywhere in Italy's toe and you find peperoncini everywhere, even in gelato. Unlike other chillies, however, these peperoncini bring a delicious warmth rather than mind-blowing heat. Follow your nose to a deli and you'll see vividly red salumi, whose bright colour hints at just how much chilli is found within. Soppressata di Calabria, an air-cured pork that's packed with chilli, has its own DOP status, as does salsiccia di Calabria, whose added dose of fennel unites two evocative flavours of Italy.
But the king of Calabrian salumi has to be 'nduja, a soft, spreadable salume that manages to take some of the less appealing parts of the pig and create something splendid. Generous quantities of both pork fat and peperoncini give it its intensity and depth of flavour, and it's allowed to mature for a good two years before it's ready to eat. It also helps that Calabrian pigs are allowed to roam and feast on acorns, chestnuts and wild herbs.
Hand in hand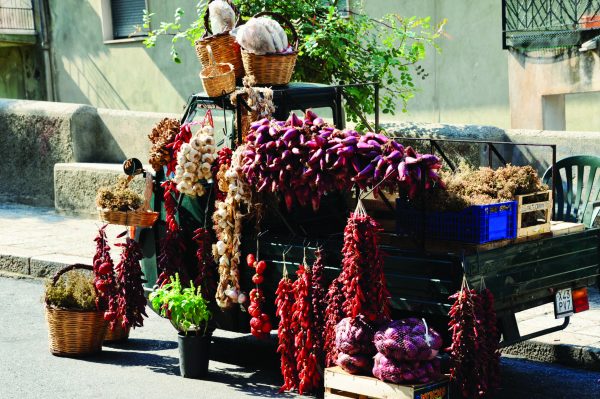 In Tropea, officially Italy's prettiest town, it was hard to miss the significance of the peperoncino. Strings of these bright red chillies hung from food stalls, shops and markets, adding their vibrancy to the town's pale ochre, cream and terracotta architecture. And with the red of the peperoncini you'll find the deep purplish red of the Tropea onion, la cipolla rossa, whose sweetness is a perfect counterpoint to the warmth of the chilli. The two go hand in hand in one of the most common dishes you'll see on a Calabrian menu: fileja con 'nduja. The spicy sausage is melted into a sauce of Tropea onions and tomatoes and served with a twisted pasta called fileja. Its ubiquity doesn't make it any less delicious.
A 35-minute drive east along the coast road led me to another Calabrian speciality, which happened to have been created in another of the region's most appealing towns. Tartufo di Pizzo takes the idea of a truffle and transforms it into something sublime. This ice-cream dessert is like a giant version of a chocolate truffle, with oozing chocolate sauce lurking inside fat coatings of hazelnut and chocolate ice cream, and a dusting of cocoa powder for an extra touch. Bar Gelateria Ercole in Pizzo's buzzing Piazza della Repubblica was the place to linger, and the pistachio version was even more fabulous.
Sea of olive groves
After my coastal crawl of Calabria's alluring seafront towns – to which I'd add Scilla, near the Straits of Messina – I headed to the hills and found the sort of agriturismo you don't want to leave. Le Carolee sits in a sea of olive groves and gentle farmland 15km from Lamezia Terme, with the Tyrrhenian and Ionian seas about an equal distance away. Its sprawling 19th-century farmhouse, painted in a pale shade of terracotta, looked more like a grand country house than a humble farm dwelling. Its pleasingly rustic rooms had views across the Tyrrhenian Sea, where the volcanic peak of Sicily's Stromboli was just visible.
In a peaceful garden, surrounded by fig, lemon and pomegranate trees, olive groves and date palms, Federico Gaetano and his family use their own produce and pigs to create meals that show off the best of Calabrian cooking. The food looked uncomplicated, but with ingredients of such high quality its simplicity was deceptive. Each evening was filled with anticipation as we waited to see what was being made that day. (No menu, of course.) Antipasti ranged from a plate groaning with courgette fritters, aubergine meatballs and capocollo salami made from the farm's own pigs, to involtini di mozzarella, rocket, pancetta and tomatoes – with some 'nduja on ciabatta, and prosciutto, to fill any gaps.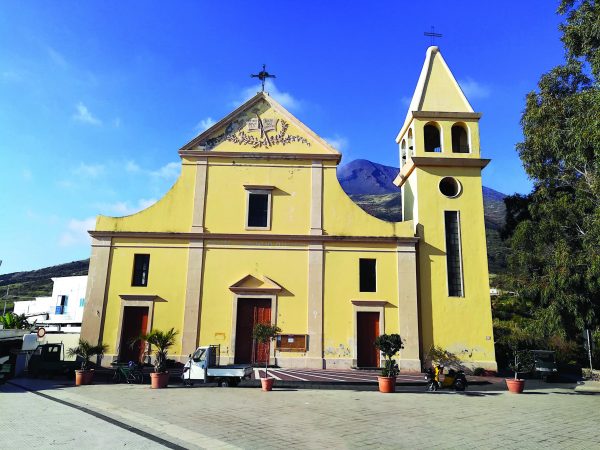 I was indulged further with fileja con 'nduja, the best I have ever tasted. The other pasta courses were also simple but bursting with flavour – even something as straightforward as tagliatelle with sugo had an incredible richness. And everything was enhanced by the estate's organic DOP extravirgin olive oil, made from the Carolea olives from which the farm took its name.
Somehow there was always room for the main course, whether it was meltingly tender ossobuco or thin slices of veal with pine nuts. Local swordfish was done calabrese style, with zingy capers, tomatoes and olives grown on the estate. After all that food, desserts were reassuringly restrained – usually just seasonal fruit or a plate of those crispy fried little pastries called chiacchiere. A glass of homemade limoncello added to the relaxed mood as the sky turned dusky and a fragrant breeze swept through the olive and palm trees.
As it was (pre-pandemic) September, we had the exquisite timing of being in Calabria during its annual celebration of the peperoncino calabrese. Set in the seaside town of Diamante, near the border with Campania, the Peperoncino Festival is one of Italy's liveliest food events, with scores of food stalls as well as tastings, workshops and chilli-eating contests over the course of five days. Diamante, which is colourful enough to begin with, thanks to its many mural-covered walls, becomes a riot of red in every shade. Even the Come Una Volta gelateria was in a chilli mood, with its special festival contribution of gelato with chocolate and peperoncino. But nothing, not even the gelato, could fully dampen that fiery Calabrian chilli heat.
Enjoyed this article? Discover more like it in the Italia! Calabria archive…