Enjoy this recipe for risotto con bruscandoli by Mario Matassa – it's a fantastic way to use wild hops…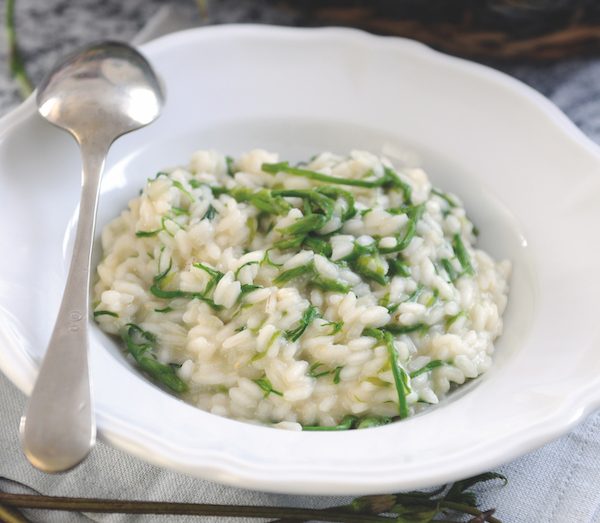 Serves 2
Preparation time 15 minutes
Cooking time 20 minutes
Ingredients:
• 180g risotto rice
• a bunch of wild hops, roughly chopped
• 1 small onion, peeled, finely chopped
• 600-750ml vegetable stock
• 30g Parmesan, grated
• 1 tbsp unsalted butter, plus extra to finish
• 1 tbsp olive oil
• salt and freshly ground black pepper
Instructions:
1 Heat the butter and oil in a large saucepan. Once the butter has melted, add the onion and cook for 3-4 minutes, until softened. Next, add the risotto rice and stir well to coat evenly. 
2 Add the wild hops to the pan and stir again. Pour a few ladlefuls of hot stock into the rice and stir until all the liquid has been absorbed. Continue adding stock a ladleful at a time and stirring in this way, until the rice is cooked. Depending on the variety used this will take about 15 minutes, but taste a grain of rice to make sure it is cooked. 
3 Taste for seasoning, then add a generous amount of Parmesan and a knob of butter to the pan, and stir together well. Serve immediately.
TIP Foraged nettles, hops and wild asparagus are a sure sign that spring has started in Italy and can be found in plenty of dishes. All have health benefits and are highly flavoursome. This risotto is a great way to use wild hops, but it can also be made with any of the above ingredients, or a combination of the three.
You can find more Italian recipes from foraged foods here
And there are plenty more delicious Italian-inspired recipes here