In his latest instalment in the series uncovering the secrets of Italian food, Mario Matassa looks at the delights of Italian biscuits and cakes to recreate in your kitchen
Photos by Mario Matassa 
There can be nothing more evocative and comforting than the wafting aromas of freshly baked biscuits and cakes. Bound up in childhood memories of hearth and home, this feeling runs deep in our collective subconscious – a nostalgia for the welcoming warmth of the kitchen and trays of indulgent treats hot from the oven. It's not surprising that so many recipes are handed down from generation to generation.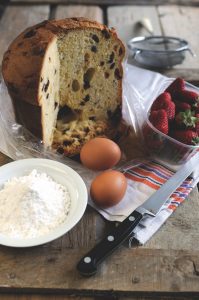 In Italy, it is thought that the first desserts were baked doughs enhanced with natural sweetening ingredients like dried fruits and honey – refined sugars only became available in more recent times, and then commanded such a premium it was only the aristocrats who could afford to add this luxury to their desserts.
One historic dessert is the panforte of medieval Siena, not as dense as its more modern variations, but with similarities to the simpler and lighter bisciola della Valtellina fruit bread in our recipe opposite. In fact, many of the country's famed desserts incorporate the word pane (bread) in their names – the most obvious being the panettone of Milan (right), and the pandoro of Verona. Others include the pandolce of Genoa, the Roman pangiallo, and Ferrara's pampepato.
Naturally, each region of Italy has its own particular puddings and cakes – there is a huge array, from crisp, nutty Tuscan cantucci and the brutti ma buoni of northern Italy to the struffoli of Naples, Sicilian cannoli and the sfogliatelle of Campania. For special celebrations, religious or secular, pudding and cakes are richer and often laden with symbolism in their shape or ingredients, especially at Easter and Christmas. Biscuits and cookies keep well and are often given as gifts to family and friends to mark the significant occasion. 
Bisciola della Valtellina
Bisciola ('little snake') della Valtellina is also known as panettone della Valtellina, though it is a lot moister than traditional panettone, and rather richer with more texture and taste, and is enjoyed all year round in Valtellina. It is also known as pane dei fichi (fig bread) because of its fruity filling. Indeed, it bears some resemblance to English fruit loaves, except that the figs do lend a distinctively Italian flavour to the cake. It can be eaten fresh, simply sliced, but it also keeps very well. It lends itself particularly well to being toasted under the grill then spread with a generous scraping of butter – which also gives a certain air of Englishness to this cake. It is relatively simple to make and so is popular with home cooks.
Try making bisciola della Valtellina (Valtellina fruit cake)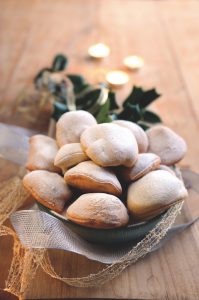 Calzoncelli di Castagne
Many of Italy's most famous desserts are steeped in religious symbolism, but perhaps none more so than chestnut calzoncelli. A speciality of the Puglia region, their distinctive shape is said to represent the baby Jesus's pillow. They are most often accompanied by cartellate and dita degli apostoli, which respectively symbolise the baby Jesus's sheets and the fingers of the Apostles.
Versions of this pastry are made throughout the country, albeit under different names and with a variety of fillings depending on the region. The most popular are combinations of jam, mostarda and chestnuts, as well as  chocolate, of course. Symbolic associations aside, it could be said that calzoncelli are as much the perfect excuse for Italians to indulge in one of their favourite sweet treats – fried food. They keep very well in an airtight tin.
Make Mario's calzoncelli di castagne (fried chocolate and chestnut filled pastries)
Roccocò
Typical of the Campania region, roccocò are biscuits or cookies made with a mix of almonds and hazelnuts. Their name derives from their flat, round shape that resembles a pebble. Some claim that they are the southern version of Tuscany's cantucci biscuits. And certainly in taste, if not in appearance, there are marked similarities, and because they are hard they are often dunked in a glass of Vermouth or white wine. Others claim a history that dates back to 1320, when the recipe was invented by the nuns of the Real Convento della Maddalena. Over the festive season, they are made well in advance of the big day and are eaten
in Naples to celebrate the feast of the Immaculate Conception on 8 December. They are even used as decorations!
Try making Mario's roccocò (almond & hazelnut biscuits)
Uncover more secrets of Italian food with Mario here.