For a festive centrepiece Italian-style you can't go wrong with roast guinea fowl (faraona ripiena). Mario Matassa gives us the low-down…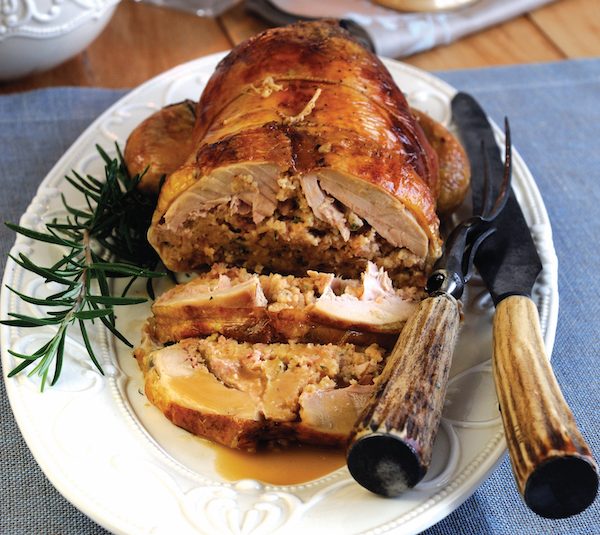 There are a number of ways to cook guinea fowl, but at Christmas a roast seems almost obligatory. The key to a good roast is to make sure you do not overcook. You might want to check the oven periodically – a stuffed bird takes between 1 hour 20 minutes and 1 hour 30 minutes to cook. It's important to let it rest for 20 minutes before carving.
Serves 4
Preparation time 20 minutes
Cooking time 1 hour, 35 minutes
Ingredients:
• 100ml chicken stock
• 100g fine breadcrumbs
• 100g Parmesan, grated
• 150g Italian sausage, skin removed, crumbled
• 1 tbsp finely chopped flat-leaf parsley
• 2 free-range eggs
• 1 guinea fowl
• 1 tbsp plain flour
• 150ml white wine
Instructions:
1 Preheat the oven to 180˚C/Gas Mark 4. Heat the stock in a saucepan, then pour it over the breadcrumbs in a large bowl. Stir through and allow to cool. Once cooled, add the Parmesan, sausage, parsley and eggs, then mix well. The stuffing should be a little sticky, but if the mixture feels too wet add more cheese, if it's too dry, add more stock.
2 If the breast bone has been removed from the guinea fowl, place the stuffing on top of the breast meat, pull the skin over and secure with kitchen string. If you haven't boned the guinea fowl, simply place the stuffing in the cavity. 
3 Place the guinea fowl in an oven dish, cover with foil and bake in the oven for 1 hour 20-30 minutes. Remove the foil 20 minutes before the end of the cooking time to allow the bird to brown.
4 When the guinea fowl is cooked, remove from the oven, wrap the meat in foil and leave to rest while you make the gravy. Place the roasting pan on the hob over a medium heat. Mix 1 tbsp flour with a few tablespoons of water, then add to the roasting tin along with the wine and a splash of water. Stir to remove any lumps and cook for a few minutes. Strain the gravy, then serve with the meat.