In this recipe Mario Matassa has used chicken thighs, but if you prefer white meat, you can opt for whole chicken breast (just remember to keep the skin on)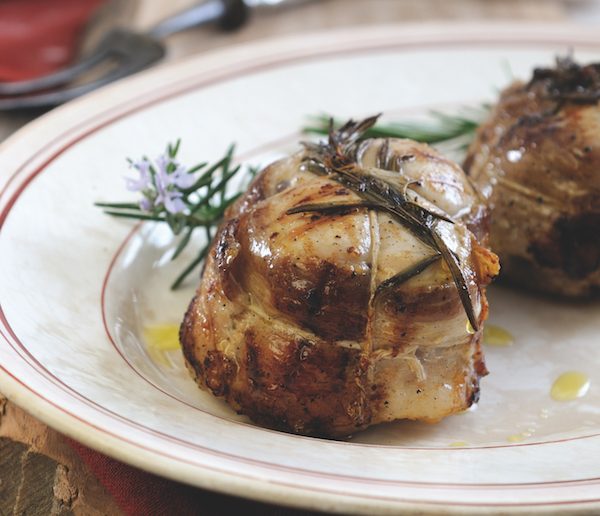 Serves 4
Preparation time 15 minutes
Barbecuing time 25 minutes
Ingredients:
• 8 tbsp fresh breadcrumbs
• 8 tbsp grated Parmesan
• 2 tbsp finely diced cooked ham
• 1 tbsp finely chopped flat-leaf parsley
• 1 small free-range egg
• salt and freshly ground black pepper
• 4 boneless chicken thighs
• 8 slices of pancetta
• 8 sprigs of fresh rosemary
Instructions:
1 To make the stuffing for the chicken thighs, combine the breadcrumbs, cheese, ham, parsley and egg together in a bowl. Season, mix well, then divide the stuffing into four portions. 
2 Open out the chicken thighs and place a heaped tablespoon of stuffing into the middle. Fold the chicken thigh over the stuffing and wrap two slices of pancetta around it. Use either cooking string or skewers to secure the parcels so they don't open while cooking. 
3 Place 2 sprigs of rosemary around each parcel for flavouring. Cook the parcels over a medium-hot barbecue for 20-25 minutes, turning frequently on all sides.
TIP This is a good dish to prepare later in the evening. It requires a long cooking time, so a cooler barbecue will serve you well, and the chicken will take on the flavours that have gone before.

Find more dishes and Mario Matassa's feature on Italian barbecues here
You can find plenty more delicious Italian-inspired recipes here
Tags:
Chicken
,
Chicken Recipe
,
food
,
Food & Wine
,
Italian food
,
Italian Recipe
,
Meat
,
Recipes