Mario Matassa's sirloin steak with tomato, red onion and caper relish is sure to become a firm favourite recipe for your barbecue…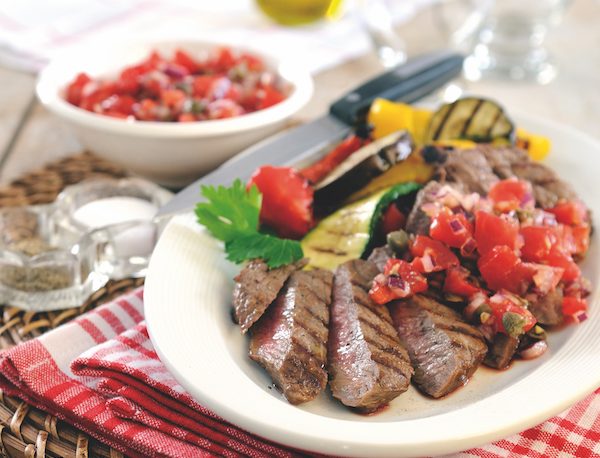 Serves 2
Preparation time 10 minutes
Barbecuing time 7-10 minutes
Ingredients:
• 1 large tomato, finely diced
• 1 small red onion, peeled, finely diced
• 1 tbsp capers
• 1 tbsp extra-virgin olive oil
• salt and freshly ground black pepper
• 2 sirloin steaks
Instructions:
1 First make the tomato salsa. Place the tomato and onion in a bowl, add the capers and oil, season with salt and pepper, then mix together. Set aside until needed. 
2 Next, place the steaks on the grill and cook for 2-4 minutes on each side (depending on the thickness of the steaks and whether you prefer them rare, medium or well-done). Season the steak well and allow it to rest for 1-2 minutes before slicing. 
3 Place the steak on a serving plate and spoon over the salsa. Serve with grilled Mediterranean vegetables such as aubergines and peppers.
TIP Remember to remove the sirloin steak from the fridge about an hour before cooking so they come up to room temperature. They will keep happily in a plastic-lidded box in the cooler by the barbecue.
Find more dishes and Mario Matassa's feature on Italian barbecues here
You can find plenty more delicious Italian-inspired recipes here