The key to this dish is finding the freshest liver possible, so make sure you go to a reputable butcher and order in advance. Recipe by Mario Matassa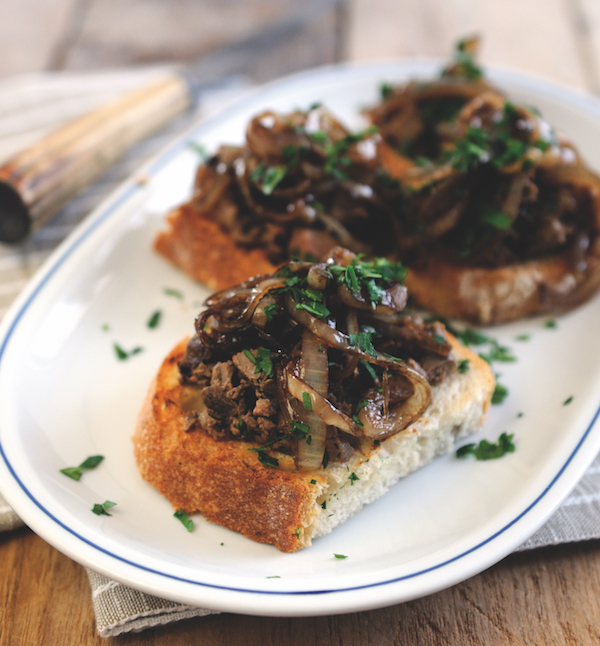 Serves 4
Preparation time 20 minutes
Cooking time 30 minutes
Ingredients:
• 4 tbsp olive oil
• 300g deer livers, cleaned
• 50ml dry white wine
• 4 tbsp capers, finely chopped
• 4 anchovy fillets, chopped
• 2 tbsp flat-leaf parsley, chopped
• salt and freshly ground black pepper
• 2 large onions, peeled, finely sliced
• 2 tbsp balsamic vinegar
• ciabatta bread, thinly sliced
Instructions:
1 Heat the oil gently in a frying pan and add the livers. Cook, turning the livers just once, for about 5 minutes. Add the wine to the pan and continue to cook until about half of the liquid has evaporated. Then turn off the heat and allow the livers to cool in the pan.
2 Remove the livers from the pan (but make sure you retain the remaining cooking juices). Chop the livers very finely with a very sharp knife. Place the meat in a bowl and add the cooking juices, capers, anchovies and parsley. Mix well and season with a little salt (beware, the anchovies are already salty) and pepper.
3 In the same pan, add a little oil and fry the onions gently, until they begin to soften. Add the balsamic vinegar, stir, and continue cooking until the liquid has evaporated.
4 To finish, toast the bread under a hot grill and rub each slice with oil. Arrange on a serving dish and place a heaped tablespoon of the mixture onto each piece. Finish with a spoonful of onions, a final drizzle of extra-virgin olive oil and a sprinkling of parsley.
You'll find more hearty game recipes from Mario here