Mario Matassa brings us a fantastic Italian salad to enjoy on sunny days – light, flavoursome and with an interesting added ingredient…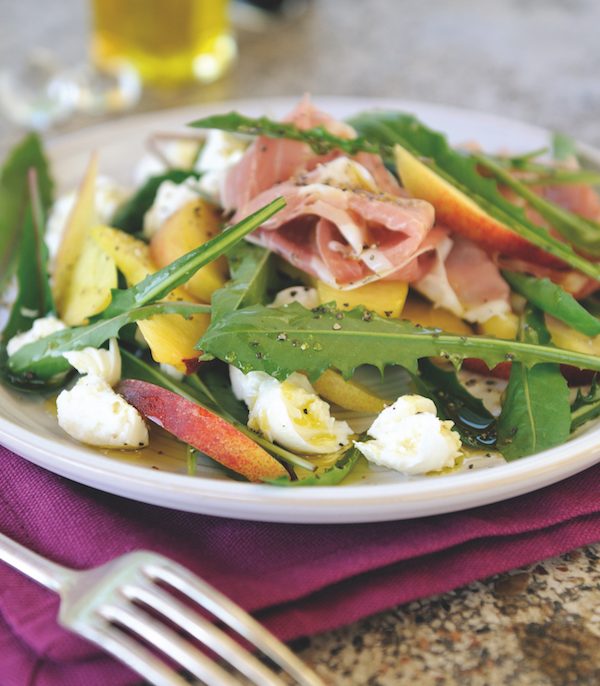 Serves 6
Preparation time 10 minutes
Cooking time none
Ingredients:
• 2 ripe but firm peaches
• 200g buffalo mozzarella
• a small handful of wild dandelion leaves
• 6 tbsp extra-virgin olive oil
• 2 tbsp balsamic vinegar
• salt and freshly ground black pepper
• 12 slices of Parma ham
Instructions:
1 Chop the peaches into bite-size slices and place in a large bowl. Rip the mozzarella into bite-sized pieces and place in the bowl together with the dandelion leaves. 
2 Mix together the oil and vinegar in a small jug and pour this over the salad. Season well, then mix together gently. Divide the salad between six plates, then place two slices of Parma ham on top of each salad pile before serving.

TIP Dandelions got a bad name in the UK by springing up in people's lawns, but they're actually highly nutritious and have been part of the garden larder since time immemorial. Here we are only using the leaves (and being very careful about where we pick them) but in fact all parts of the plant are edible, even raw. The flowers would make a bold garnish for this salad, while the root is used to make a tea that can be very expensive to buy in the shops.
Find more Italian-inspired recipes here