This delicious appetiser is perfect in its simplicity and requires minimal preparation time. Mario Matassa shares the recipe with us…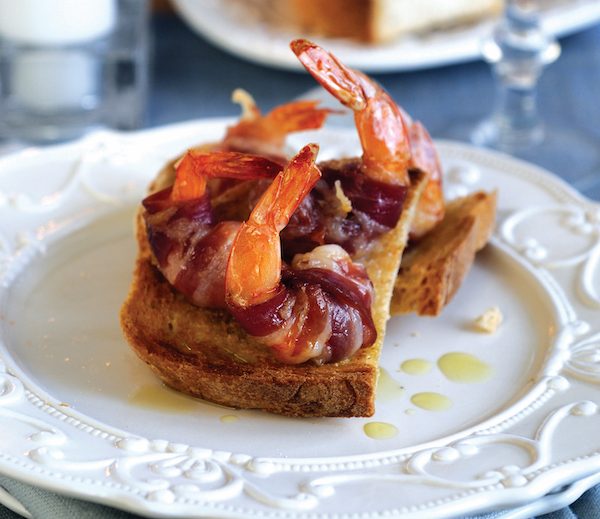 For this crostini dish it is important to find plump prawns and to make sure that the pancetta is sliced very thinly as it has to become crisp just as the prawns are cooked:
Serves 4
Preparation time 10 minutes
Cooking time 15 minutes
Ingredients:
• 12 pieces of sliced rustic bread, such as ciabatta
• 1 garlic clove, peeled
• extra-virgin olive oil
• 24 tiger or other large prawn tails
• 24 thin slices of pancetta
Instructions:
1 Preheat the oven to 180˚C/Gas Mark 4. To make the crostini, toast the sliced bread on both sides under the grill. Once browned, remove and rub each slice with the garlic and drizzle with a little olive oil. Set aside.
2 De-vein and peel the prawn tails, then wrap each one in a slice of pancetta. Place the prawns on a baking tray, then bake in the oven for around 10 minutes, or until the pancetta has browned and the prawn tails are cooked. 
3 To serve, place two wrapped prawns on top of each crostino and serve three slices of crostini to each person.

TIP You will need to make the crostini on the day (perhaps with yesterday's bread) but the prawns in pancetta can be prepared the day before and kept, covered, in the bottom of the fridge.