Mario Matassa's seafood antipasto is delicious and versatile – try it without the tomatoes (just wine, garlic and parsley)… it's delicious either way!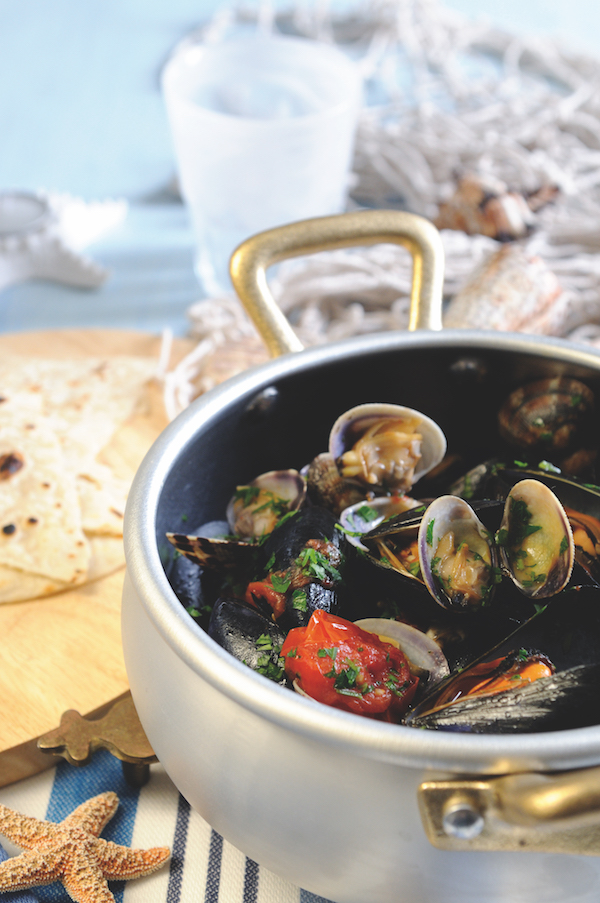 Serves 4
Preparation 5 minutes
Cooking 7-10 minutes
Ingredients:
• 1kg fresh mussels
• 500g fresh clams
• 4 tbsp extra-virgin olive oil
• 1-2 garlic cloves, peeled
• a handful of baby plum tomatoes
• 75ml dry white wine
• 1 tbsp finely chopped flat-leaf parsley
Instructions:
1 Begin by cleaning the mussels and clams under cold running water, removing any seaweed or grit. Set aside. Heat the oil in a large pot with a tight-fitting lid. Add the garlic cloves and tomatoes and cook for 4-5 minutes, until the tomatoes soften.
2 Once cooked, turn up the heat and add the mussels and clams, and also the wine. Cover and allow to cook for 2-3 minutes. After this time, open the lid and give everything a stir. If the shells have not opened, close the lid and cook for another 1-2 minutes (discard any that don't open after this time). Finally sprinkle over the parsley and serve with warm piadina flat breads.
TIP!
Follow the recipe, add a bit of pasta and it becomes a delicious seafood pasta primo!