In Italy wild boar (cinghiale) tends to be cooked very slowly over a long period to avoid the meat becoming tough. Mario's recipe is a tasty take on a classic dish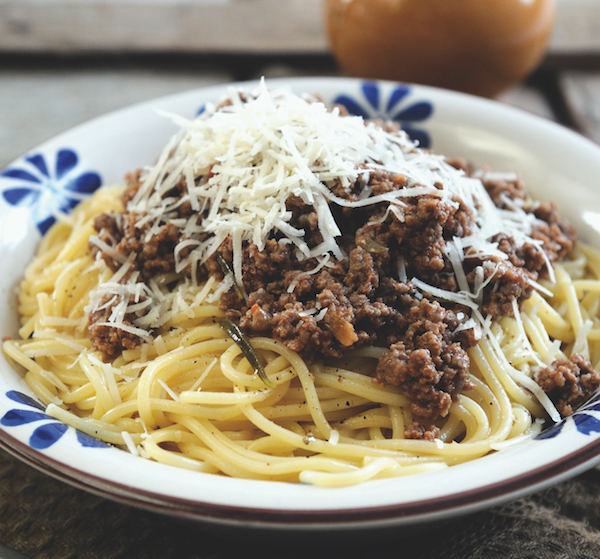 Serves 4
Preparation time 10 minutes
Cooking time 2 hours
Ingredients:
• 2 tbsp olive oil
• 2 garlic cloves, peeled & chopped
• 500g wild boar mince
• 1 glass of dry white wine
• 30g dried porcini mushrooms
• 400g chopped tomatoes
• 1 sprig of rosemary
• salt and freshly ground black pepper
• 350g spaghetti
• grated Parmesan, to serve
Instructions:
1 Heat the olive oil in a large saucepan and add the garlic with the wild boar mince. Season well and leave to cook until the meat has browned. Once browned, add the wine and continue cooking until it has evaporated.
2 Meanwhile, place the dried mushrooms in a bowl and cover with boiling water. Leave to soak for 10 minutes, then drain, reserving the juice. Finely chop the mushrooms and add to the meat along with the juice (make sure you sieve the juice to remove any grit or sand), the tomatoes and rosemary. Continue to simmer the sauce gently for 1 hour 30 minutes. Season accordingly.
3 Bring a pan of lightly salted water to the boil and cook the spaghetti according to packet instructions. Drain, then add to the sauce. Mix well and serve immediately with plenty of grated Parmesan cheese.
You'll find more hearty game recipes from Mario here