This 'trota' dish has a spicy kick. Mario Matassa used wild trout here, but with the addition of more chilli pepper, farmed trout also works well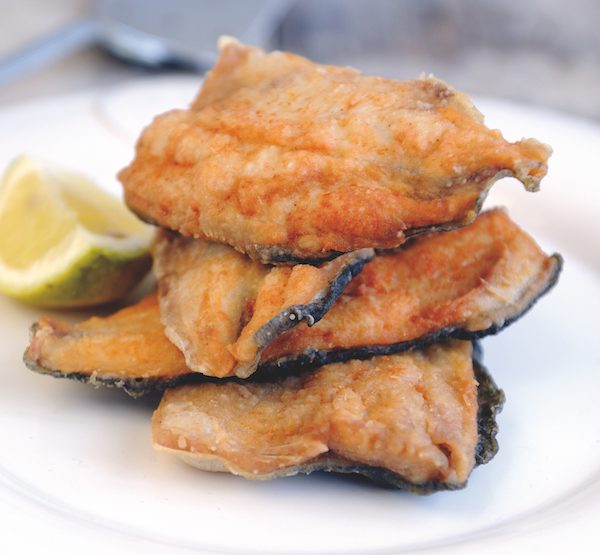 In this trout recipe, which has been adapted from a method for cooking trout in the Apennine mountains above Parma, the fish is coated in flour and chilli pepper, then pan-fried until crisp. Enjoy!
Serves 2
Preparation time 15 minutes
Cooking time 10 minutes
Ingredients:
• 4 wild trout
• 6 tbsp plain flour
• ½ tsp chilli powder (or more according to taste)
• 3-4 tbsp olive oil
• salt and freshly ground black pepper
• lemon wedges, to serve
Instructions:
1 Prepare the trout fillets by running a knife gently over the skin to de-scale them under running water. Remove the head and make a slit down the centre of the fish to enable you to remove the insides. 
2 Once clean, gently press the fillets to open them out into a butterfly. You should be able to remove the backbone in one go by firmly pulling it from the top of the fish to the tail. Check for any stray bones, then set aside until needed. (Alternatively, you could always ask your fishmonger to do this for you.) 
3 Sift the flour with the chilli powder, salt and pepper onto a plate. Place each fillet gently in the seasoned flour then press down gently on both sides. Ensure that the fish is coated evenly in flour. 
4 Pour the oil into a large frying pan and heat. When hot, add the trout fillets skin-side down and cook for 2-3 minutes, depending on the thickness of the fillet. You may need to press the fillet down with the back of a fish slice to stop it from curling in the pan. Flip the fillets over and cook for a further 2 minutes. Serve hot with lemon wedges.
TIP  If you are unable to find wild trout this recipe also works well with farmed trout. 

You can find more Italian recipes from foraged foods here
And there are plenty more delicious Italian-inspired recipes here