Mario Matassa shares his recipe for stuffed squid – it can be eaten hot or cold but do remember to trickle a little extra olive oil over the squid just before you sit down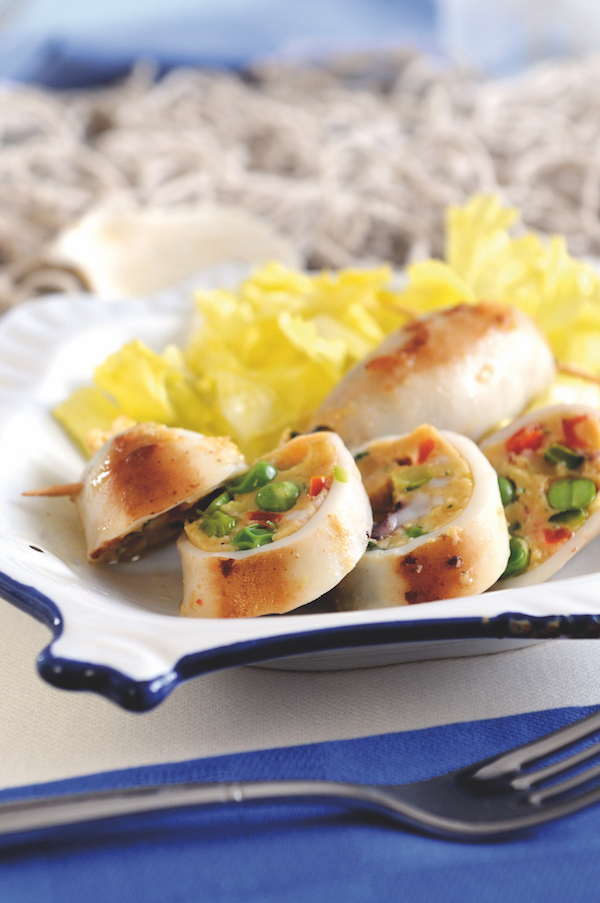 Serves 4
Preparation time 15 minutes
Cooking time 25 minutes
Ingredients:
• 8 small to medium squid, prepared, tentacles retained
• 1 courgette
• 8 baby plum tomatoes
• 2 slices of fresh white bread
• 50g fresh peas, or frozen ones that have been defrosted
• 1 tbsp finely chopped flat-leaf parsley
• 30g grated parmesan
• 1 free-range egg
• extra-virgin olive oil
• 100ml dry white wine
• sea salt and freshly ground black pepper
Instructions:
1 Rinse the squid well under cold water and remove their tentacles. To make the stuffing, finely dice the courgette and tentacles and fry these for 5 minutes in a pan with a little oil.
2 While the courgettes are cooking, finely dice the tomatoes and whizz the bread in a food processor to fine crumbs. Place the courgettes, peas, tomatoes, breadcrumbs, tentacles, parsley and cheese in a bowl and mix together. Finally add the beaten egg to bind everything together and season.
3 With a small spoon or piping bag, place the stuffing inside the squid. Make sure you pack the stuffing down firmly. Once all the squid has been stuffed, close the opening with a cocktail stick.
4 Place a tablespoon of olive oil in a frying pan, heat and then add the squid. Allow the squid to sear briefly before pouring the wine over it. Cover and cook for around 20-25 minutes. If you'd rather slice the squid to serve, allow them to cool for a few minutes, as the filling will firm up. Serve with lemon wedges and a simple green salad.