When it comes to store cupboard stand ins, they don't come more handy than a trusty jar of green basil pesto. Italia! put a selection of the classic sauce to the test
There are countless classic basil pestos available on our supermarket shelves, but there are many variations on the authentic recipe on offer too. The Italia! taste team decided to limit the options and take a look at the traditional range of basil pestos widely available for shoppers.
Pesto originally hails from Genoa, where pesto alla genovese is considered the only recipe to abide by. Named after the verb pestare, meaning to grind, the sauce takes its name from the important procedure of grinding the ingredients by hand to release the aromas of the individual components of the sauce. The traditional sauce is made from Ligurian olive oil, blended with genovese basil, garlic, pine nuts and a combination of parmesan and pecorino sardo. Although not all the following pestos have abided by this age-old recipe, we were happy to discover a very palatable range.
Among our selection were spicy ones, cheesy ones, nuttier-than-normal ones and oily ones – who would have thought there would be so much variety in store? So spruce up your pasta, or add a dollop to some crushed boiled potatoes, the options for this tasty staple are as varied as your imagination.
Tideford Organic Foods Hey Pesto! Basil Pesto
Price £3.80 for 150g
Rarely are five stars awarded to the runner-up, but Tideford Organic Foods Hey Pesto! only just fell short of the top spot. Who would have guessed that such a wonderful version of such a quintessentially Italian sauce could come out of Devon? We found it certainly got its ratios right when creating this recipe. While many of the other pestos were salty, Hey Pesto hits the nail on the head with a perfect degree of sweetness. One of our tasters did comment that "it could do with a little more zing", while another said "I thought it tasted homemade; nice and chunky." It may have been "quite mild" but the hint of garlic was discreet and not pungent like other samples. You could still taste the cheese too.
Verdict 5/5 
This is good and chunky just like mamma used to make. This authentic pesto sauce was a very close call for editor's choice.
Sacla Italia Organic Basil Pesto
From All major supermarkets
Price £2.40 for 190g (at Tesco)
You can't beat a spot of blind-tasting for destroying all the prejudices held against well-known brands – tasters can really say what they think about the product, regardless of preconceptions. In among some of the higher-end pestos, we slipped in Sacla's Organic Green Pesto, and it did really well. With its "herby texture" and "added bite", Sacla was definitely on to a winner. One judge felt that it reminded her too much of pizza flavouring – something she evidently wasn't in the mood for. Criticisms also highlighted a "more bitter taste" and the lack of any noticeable hint of parmesan cheese in the recipe. The consistency was, however, perfect for using on pasta, with enough olive oil to lavishly coat each piece.
Verdict 4/5
This was our bargain buy and it perfectly demonstrated that something doesn't have to be costly to be on the money.
Carluccio's Pesto Alla Genovese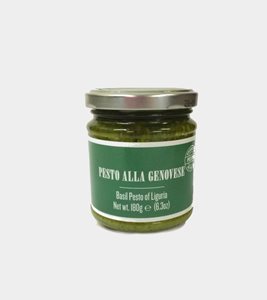 From www.carluccios.com
Price £4.25 for 180g
It looks and smells like pesto, but it tastes like salt diluted in olive oil. Carluccio's has a mixed bag of products in its stores and this one clearly fails to live up to the standards one would expect from one of the most popular Italian delis in the UK. The rich, gooey texture was considered "unappealing" by some, while others were put off by the finesse of the chopped herb. When it came to the taste verdict, the result was dismal; beyond saltiness, there were no flavours to be discerned.
Verdict 1/5
Unfortunately, this is one pesto that should be avoided, particularly if you are watching your salt intake.
Jamie Oliver Green Pesto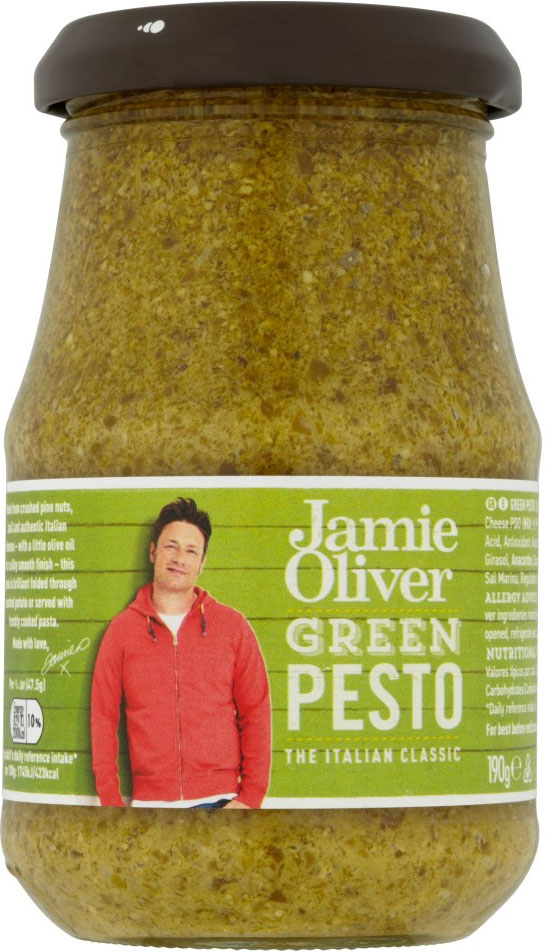 From Waitrose
Price £1.53 for 100g
It's hard to imagine that Jamie Oliver actually sits in a factory churning out industrial loads of pesto, but he put his name to this concoction, which must count for something. The texture here is more that of a paste than some of the others, which have a great deal more olive oil in them, so this was quite versatile, as you can add additional olive oil to achieve the consistency you are after. Jamie claims that it 'is really tasty', and many on the panel concurred. Others felt a little short changed by the lack of the luscious oil.
Oil or no oil, the taste was still "rich" and zingy despite being a "little heavy on the salt". The colour was a pleasing vibrant green, no doubt contributing to the aromatic bouquet that greeted us on popping open the jar. If you are after a smooth, verdant pesto, Jamie's is a good choice, and it's pretty cheap too.
Verdict 4/5
A versatile spread, with a stiffer consistency that the other contenders, which has a rich, appealing taste and aroma.