Baccalà alla napoletana (salt cod) is a hugely popular dish in Italy, and is a popular Christmas Eve dish among Italians. Mario Matassa shows us how it's done…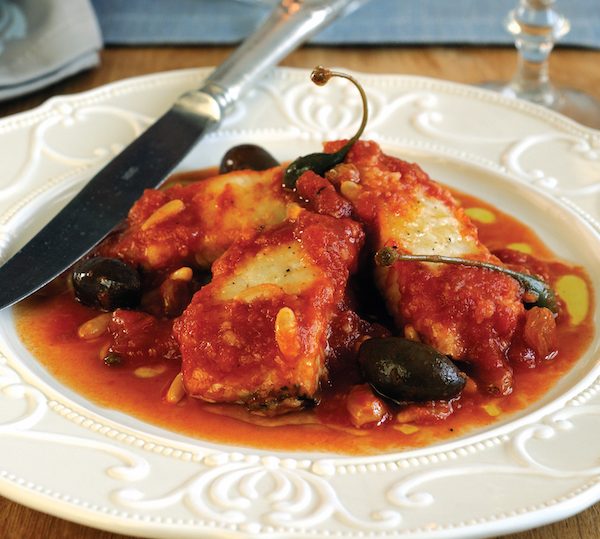 Baccalà is sold everywhere in Italy in the run-up to Christmas. It is important to buy it in advance as it needs to be soaked in water for a couple of days before cooking. (It is also important to remember to change the water several times a day.)
Serves 4-6
Preparation time 15 minutes
Cooking time 45 minutes
Ingredients:
• 2 garlic cloves, peeled, chopped
• olive oil
• 800g tinned chopped tomatoes
• 150g black olives
• 50g sultanas
• 25g pine nuts, toasted
• 1 tbsp capers, rinsed
• salt and freshly ground black pepper
• 1kg salted cod fillet (ready to use)
• flour, to dust
Instructions:
1 To make the sauce, gently fry the garlic in a deep-sided frying pan with a few tablespoons of olive oil for a couple of minutes. Next, add the chopped tomatoes, olives, sultanas, pine nuts and capers. Allow to simmer gently for 15 minutes, then check for seasoning. If necessary, add salt and pepper.
2 While the sauce is simmering, take the fillet of prepared salt cod (see soaking instructions left) and cut into steaks about 5cm wide. Dust with flour and fry in a separate frying pan with a few tablespoons of olive oil until golden on the outside. You can do this in batches if necessary.
3 Once all the cod pieces have been fried, place in the pan with the sauce, cover and continue to gently simmer for 25-30 minutes, until the cod is cooked all the way through.
4 Serve the baccalà immediately over polenta or with crusty bread.

You can find more Italian Christmas recipes here
And there are plenty more delicious Italian-inspired recipes here