Artichokes are a hugely popular ingredient in Italian cooking, and these succulent baby globes, combined with juicy prawns make this pasta concoction a mouth-watering treat that can be on your plate in minutes.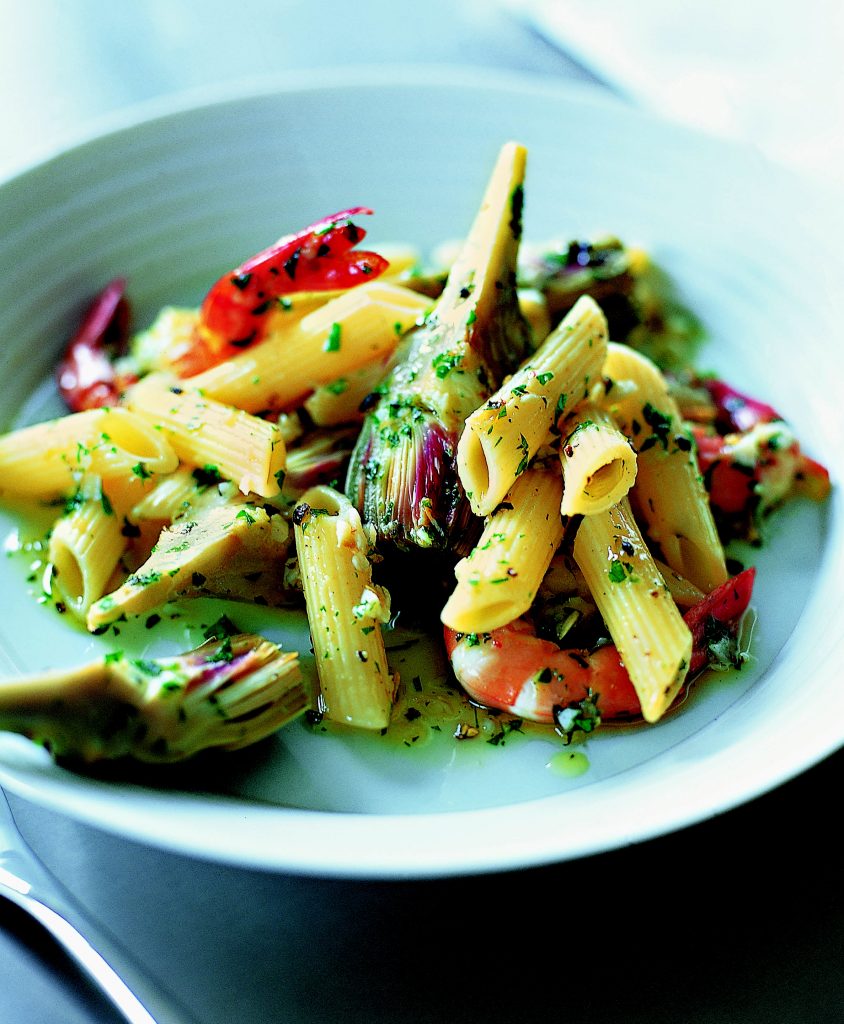 Ingredients
Serves 4
1 lemon, for juice
4 baby globe artichokes, preferably with good long stalks
3 tbsp olive oil
2 garlic cloves, crushed
Handful chopped, fresh mint
Handful chopped, fresh, flat-leaf parsley
Sea salt and freshly ground black pepper
350g dried penne
16 peeled cooked king or tiger prawns, preferably with their tail shells attached
2 tbsp fruity, fine extra virgin olive oil
Method
Have ready a large pan of cold water to which you have added the lemon juice. To prepare the artichokes, cut off most of the stalks, if any, and cut across the tops of the leaves. Peel off and discard any tough or discoloured outer leaves. Cut the artichokes lengthways into quarters and
remove any hairy 'chokes' from their centres. Put the pieces of artichoke in the pan of acidulated water to help prevent browning. Bring to the boil and simmer gently for about 10 minutes.
Drain the pieces of artichoke and pat them dry. Heat the olive oil in a non-stick frying pan and add the artichokes, the crushed garlic and half the mint and parsley to the pan. Season with plenty of salt and pepper, and cook over a low heat, stirring frequently, for about 3-4 minutes or until the artichokes are just tender.
Meanwhile, cook the pasta in a large pan of boiling salted water until al dente.
Add the prawns to the artichokes and stir well to mix. Heat through over a gentle heat for 2 minutes.
Drain the cooked pasta and tip into a warmed bowl. Dress with the extra virgin olive oil, spoon the artichoke mixture over the pasta and toss to combine.
Serve immediately, sprinkled with the remaining mint and parsley.