This is a classic Sicilian Pasta alla Norma recipe, blending the flavours of aubergines, tomatoes, basil and ricotta. The term Norma seems to refer to the lady who developed the dish whose standard was deemed as high as Bellini's opera La Norma.
➤ 

Serves 4 

➤ 

Cooking Time 45 minutes 

➤ 

Easy
Ingredients:
2 medium aubergines, sliced width-wise, layered and salted with coarse salt and spread out to 'sweat' in colander with a plate (weight) on top of the pile
500 ml of Passata
Basil (12 leaves – fresh)
2 cloves of garlic
2 medium shallots
150 ml corn oil/mild olive oil for frying
20 ml Extra virgin olive oil
200g salted ricotta (if unavailable, use half Parmigiano and half pecorino Romano)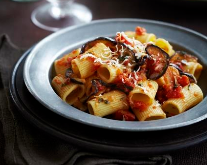 Method:
Slice width-wise the aubergines, and sprinkle them with rock salt as you layer them to 'sweat' in colander . Place a weight on top
of the colander and allow at least half an hour for the excess water to drain from the aubergines. Pat them dry afterwards and fry them in corn oil/light olive oil.
Rest the fried aubergines in absorbent paper and slice in strips (1/2 cm width).
For the sauce, slice 2 medium shallots and sauté in a pan with 2 TBS extra-virgin olive oil, add the tinned tomato and let the sauce reduce to a jam like consistency.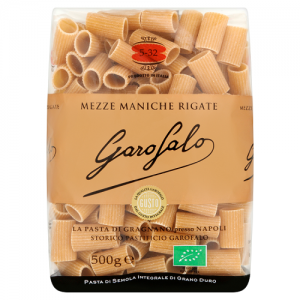 When the sauce is ready, add the aubergines, mix well, add the finely chopped basil and the grated salted ricotta (or parmesan /pecorino). If the sauce is a little too dense, add –before the cheese – half a ladle of boiling water and mix well, drain the pasta and serve at once.
To cook the pasta, use a large capacity pan and bring to the boil 4 litres of water, add salt and then the pasta.
The golden rule for cooking pasta properly is to use 1 litre of water for every 100g of pasta!
Don't bother adding ANY oil (it has better uses) to prevent pasta from sticking: it is the quantity of water and regular stirring that will ensure pasta doesn't stick.