Gnocchi agli spinaci, Gorgonzola e pancetta
You can, if you have time and patience, make your own gnocchi, but it is an ingredient that does not suffer from being pre-prepared by a supermarket.
➤Serves 2➤ Preparation 5 minutes ➤ Cooking 10 minutes
250g good-quality ready-made potato gnocchi
80g cubetti di pancetta
100g mascarpone
70g Gorgonzola cheese, cut into cubes
150g baby-leaf spinach
salt and freshly ground pepper
a little grating of nutmeg
a dash of olive oil for frying
Put a drop of oil in a frying pan and place over a high heat. Once hot, add the pancetta and fry until crispy, stirring so it's cooked evenly, this should take about 5 minutes. Remove with a slotted spoon and set to drain on kitchen paper.
Put the mascarpone in a saucepan until it becomes fluid and is warmed through, then drop in the chopped Gorgonzola, stir frequently.
Meanwhile, get a pan of salted water boiling on the hob, then drop in the gnocchi. When they float to the top, they are ready to remove. Fish out with a perforated spoon.
Once the Gorgonzola has melted, add the spinach and stir until just wilted, which will take only a couple of minutes. Stir in the pancetta and season, then add the gnocchi and serve. Eat on its own or with a seasonal green salad.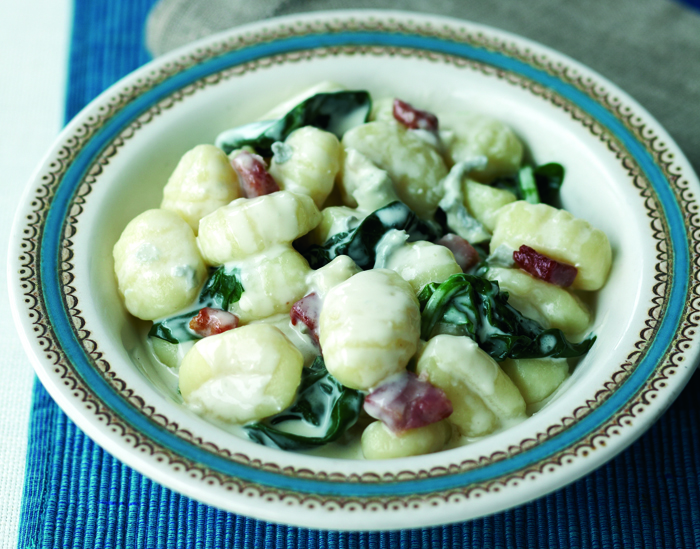 Tags:
Gnocchi
,
Gnocchi with spinach
,
Gorgonzola and pancetta
,
Pronto
,
Recipes