Pretty to look at and delicious to eat, this fabulously easy no knead bread is perfect served warm as a dinner accompaniment. It tastes great served cold too, making it a fab way to jazz up those lunch boxes!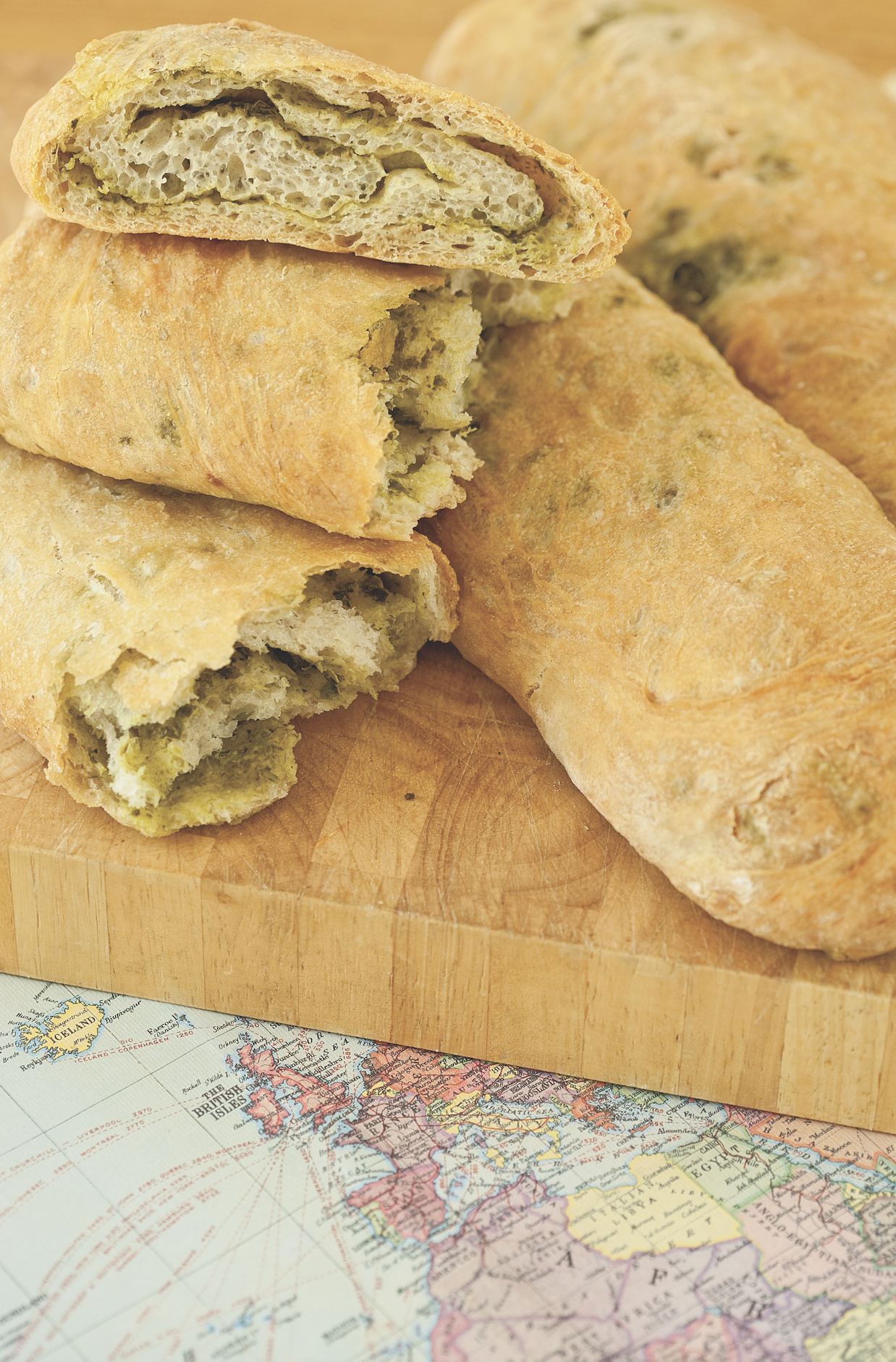 Easy Italian Pesto Bread
Preparation time 10 mins plus rising – Baking time 20-25 mins – Makes 3 medium loaves
Ingredients
500g strong white flour plus extra for dusting
11/2 tsp salt
12g dried fast action yeast
380ml tepid water
1 small jar/approx 190g pesto
Olive oil for brushing
Method
Place the flour in a large bowl then add the salt to one side of the bowl and the yeast to the other.
Add the water and mix together using your hands or a wooden spoon to form a large ball of sticky dough. Mix well until the flour is fully incorporated then cover with oiled clingfilm and leave to rise in a warm place for approx 1-2 hours until doubled in size.
Sprinkle your work surface with a generous amount of flour ensuring it is well covered. Tip the dough out onto your floured work surface and dust the dough with flour. Divide the dough into three equal portions then gently stretch out each portion using your hands or a floured rolling pin. The dough will be very stretchy but will shrink back so move from one portion to the next which allows the dough to rest for a couple of minutes, then stretch them all again. Repeat until each portion is approx 25-30cm square.
Divide the pesto equally between the three pieces of dough then spread out evenly on top of each piece. Roll up each piece of dough and place on a baking tray lined with baking paper. Cover loosely with oiled clingfilm and leave to rise for 30 mins-1 hour until doubled in size.
Preheat the oven to 230˚C/210˚C fan/gas mark 8. Brush the top of each loaf with olive oil and bake for 20-25 mins until golden on top. Allow to cool a little before slicing and enjoying.
TIP: To ensure the loaves are crunchy on the outside you need to create steam inside the oven. Do this by either spraying a fine mist of water inside the oven when you put the loaves in or put a baking tray in the bottom of the oven when you preheat it and pour a cup of water in the baking tray when you put the loaves in the oven.