Calamarata with Lobster Ragu', Peas and Rocket
Created by Sara Danesin Masterchef finalist.
The choice of this pasta is that it allows a tidy and elegant plating up, perfect for such a  fine dining recipe.
Importantly, remember to keep the lobster's shell (carapace) as this is an integral part of this recipe. Whether you have bought yours from a supermarket or fishmongers, make sure the shells are still on. Crustacean shells give a wonderful flavour: something most people associate with lobsters, crabs and langoustines.
This recipe has several steps to it, which really need to be followed carefully to ensure the finesse and balance of flavours comes through at their best.
➤Serves  4 ➤ Cooking  Time  1hr  ➤ Medium
Ingredients:
4 medium sized unshelled Lobster Tails (Raw, fresh or frozen) – available frozen from most supermarkets
400g  good quality ripe plum tomatoes  
Small bunch of basil
Small bunch of rocket
100g of fresh peas
Half small red onion
Celery stick
Half a fennel
Two cloves of garlic
White wine (5  tbsp.)
Half shallot
1  tbsp. parsley
5  tbsp. Extra virgin olive oil
Malden Salt
Half a teaspoon of chilli pepper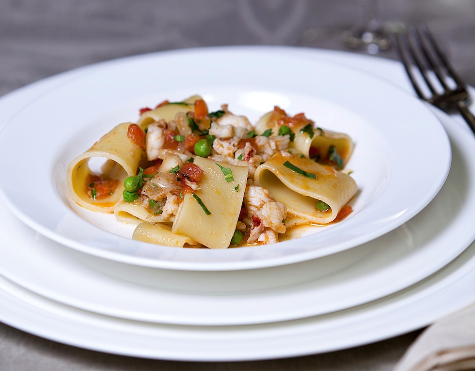 Method:
Cook the lobster tails (carapace (shell) on) in plenty of salted boiling water for 5 minutes. Remove from water and chill them in ice cold water immediately.
Peel the carapace and set aside for later use.
Finely dice the fennel, celery and red onion and sauté in 2 tbsp. of Extra virgin olive oil and one crushed clove of garlic (skin
on). Add the lobster shells to the sautéed vegetables, add a splash of white wine, and allow the alcohol to evaporate, add a few basil leaves and a small bunch of parsley, salt and 150g of diced tomatoes. Stir well.
Add 2-3 glasses of water and cook at medium heat for about 30 minutes or until sauce is reduced by half. Pass this sauce through a fine sieve making sure you squeeze all the flavours out using a wooden spoon. Set the sauce aside.
In another pan, add the chopped shallot and 3 tbsp. Extra virgin olive oil and sauté until soft. Add the peas and 3 tbsp. of water and cook for about 8 minutes with lid on. Check seasoning. Set  aside.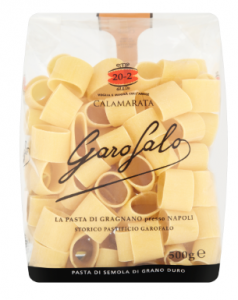 In another pan, warm 2 tbsp. of Extra virgin olive oil and the other clove of garlic (skin  on). Add the lobster meat previously roughly diced, and sauté. Add to this the cooked peas and the remaining 250g of tomatoes (diced), the rocket and the sauce and set aside in a warm place.
Boil a copious amount of water (at least one litre per 100 g of pasta), and when the water boils add roughly 2 tbsp. of rock salt, add the pasta and stir well.
The right al dente time for Calamarata is 16  minutes, so to enjoy fully the Garofalo flavour and "bite", stick to the advised cooking time!
Drain well and add to the sauce, stir and serve.
Calamarata pasta is native of Campania Region. This pasta belongs to the Paccheri family of pasta which is a family of vary large tubular shapes. Calamarata take its name from the squid because of the similar shape when squid is cut into rings.
Tags:
Calamarata
,
Garofalo
,
Lobster
,
ragu
,
Recipes