With a cooking culture that is unequalled in the world, many people take gastronomic holidays in Italy to enjoy and learn more about the country's cuisine…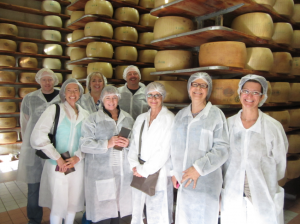 Ecco La Cucina
One of the best ways to truly experience a country as beautiful and diverse as Italy is by taking a culinary tour that fully immerses you in the delights of its regional cuisine and culture.
Ecco La Cucina is located in the heart of Tuscany, near the medieval city of Siena. Participants stay together in small groups in a beautiful villa or world-class hotel, sharing meals and cooking classes, taking tours of medieval towns and making visits to wineries and artisan food producers.
Hands-on classes are held in a 900-year-old stone kitchen where you'll learn to make pasta and local dishes paired with regional wines. Each class is followed by lunch in the lovely garden, creating close camaraderie with your fellow enthusiasts. The winery visits and tastings will enable you to learn the many diverse methods and grapes used in making Italian wine.
A week-long culinary tour with Ecco La Cucina is the perfect way for any lover of food and wine to experience Italy and is a vacation you will always remember.
Visit their website for more information and photos and read on Trip Advisor what other people say about their travels with Ecco La Cucina!
Ciao Laura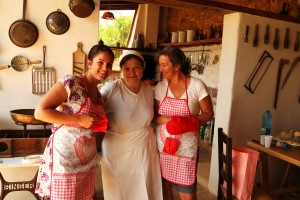 Various locations across Italy, including the Amalfi Coast and Sorrento, Rome, Lecce and Martina Franca, Bologna, Venice, Florence and Siena.
What
Ciao Laura Culinary Vacations arranges cookery lessons, market shopping, personal chef services and wine tastings in villas throughout Italy. Whether you fancy a one-day cookery lesson, an evening foodie walking tour through the historical centre of town or a week-long gourmet getaway, we are your one-stop shop in the bel paese.
Participants are encouraged to ask questions, participate in hands-on cooking lessons and really get to know their cooking instructor. For a unique experience with passionate, friendly locals, look no further than Ciao Laura Culinary Vacations in Italy, who will effortlessly arrange your programme. You will soon find yourself being greeted with open arms by your new friends!
What
Adjectives like "fantastic, grand, marvelous, terrific" cannot begin to describe my recent trip to Sorrento and the Amalfi Coast and I can't sing the praises enough for Ciao Laura Culinary Vacations!
R. Mikles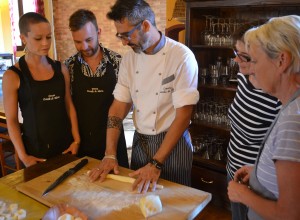 Italian Food and Flavours
Italian Food and Flavours are one of a new breed of small locally run independent gourmet holidays. Based at a 5-star TripAdvisor-rated restaurant in a beautiful medieval hill-town in central Italy, their 'epicurean week' combines food and wine trips with cooking lessons and cultural tours. The team at Italian Food and Flavours, led by renowned chef Fabio and bilingual expert guide Jo, are passionate about their region, its food, wine and traditional cuisine, and are committed to sharing these treasures with their guests to create a truly memorable Italian experience.
Based in the picturesque rural landscape of southern Le Marche – think Tuscany without the mass tourism – Italian Food and Flavours guest accommodation is a luxury 17th-century town house. Built onto the 12th-century town walls, just seconds from the restaurant, it is hard to imagine a more atmospheric location.
This gastronomic treat has been carefully designed to create a balanced and rounded experience. The morning tours to local artisan food and wine producers are linked through the flavours experienced to Fabio's afternoon cooking lessons. Insights throughout the week into the local history and culture provide context to your experience.
Tuscan Secrets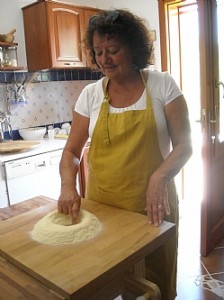 I have found a most wonderful bolt hole in Sicily! It's a 4-bed guesthouse run by Patrizia, mum Dina, and Raffaella, set in Castellammare del Golfo, within its own gardens, just 5 minutes' drive from the beach.
The ladies take you into their home and treat you like family. Their great passion is, of course, wonderful food! They will cook for you and they will show you how to prepare and cook traditional Sicilian dishes.
The Trapani area is known as the Kingdom of Fish. Each morning Patrizia goes to the harbour and buys directly from the fishermen off their boats.
The typical pasta is con le sarde (with sardines; in the Sicilian dialect it's pasta cu i sardi), a dish of Arab origin, enhanced with wild fennel, saffron, pine nuts and raisins.
Dina makes busiate by hand with tuna roe when the tuna cross the Mediterranean Sea, between April until July.Sweet and sour salt tuna is another dish with Arab origins, the fish is cooked inside onions with sugar and vinegar.
Another dish usually made during summer time is the sea food salad. In Sicilian dialect it's called nsalata di mari, an octopus salad with olive oil, parsley, salt, black pepper and lemon juice.
With fish you need a crisp, white wine, a Catarratto or a Grillo by the Donnafugata or Planeta wineries.
Piedmont Food and Wine

Turin is well known, but many of the pretty towns and villages in south Piedmont, which offer some of the best food and wine in Italy, remain undiscovered.
There are a number of important wine regions to explore. Barolo, Gavi and Barbaresco are produced here but there are also many more fantastic wines that are rarely seen outside Italy.
Some of the world's most luxurious foods are also from this region, including the white truffle from Alba, risotto rice, Gorgonzola cheese, amazing chocolate and arguably the best hazelnuts in the world.
Piedmont Food and Wine Limited ensures an authentic Italian experience, away from the crowds, to discover the hidden gems of the region. We arrange private, bespoke tours of the Langhe, Monferrato and Roerro regions, visiting cellars and vineyards and giving our guests the opportunity to learn about and taste the most important wines available.
In Piedmont of course, whenever wine is served, food is always provided! Piedmont Food and Wine also arranges cookery lessons for groups from 2 to 20 people in a professional kitchen. Lessons are 'hands on' with the participants getting fully involved, and recipes are supplied afterwards, so the dishes can be shared and enjoyed with friends and family back home. Come and discover Piedmont with us!