Wild greens (verdure selvatiche) is the name given to greens that grow in the wild. They're popular in Italy and this recipe by Mario Matassa is a good way to use them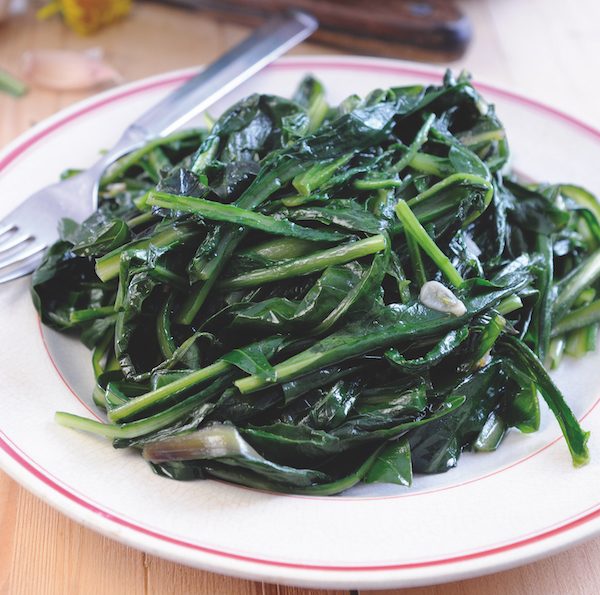 Wild greens include a wide range of plants like borage leaves, nettles, dandelions, wild fennel, hops, rocket, garlic leaves, wild beets, wild chicory, asparagus and, of course, erbe aromatiche (wild herbs). Just make sure you know what you're looking for and only forage plants like those above, which you know are edible.
Serves 2
Preparation time 10 minutes
Cooking time 15 minutes
Ingredients:
• a large bunch of dandelion leaves
• 2 garlic cloves, peeled, chopped
• a generous pinch of chilli flakes or 1 fresh red chilli, chopped
• 3 tbsp olive oil
• salt and freshly ground black pepper
Instructions:
1 Rinse the greens under some cold running water to remove any grit or mud. Bring a large pot of salted water to the boil. Once boiling, add the greens and blanch for a couple of minutes. Drain and set aside. 
2 Place the oil and garlic in a large frying pan and heat. Allow the garlic to cook in the oil for 1-2 minutes. If you are using a fresh chilli, add this and allow to soften slightly. Add the dandelion leaves and cook gently for 4-5 minutes. If using chilli flakes, add these now and mix in. Taste for seasoning, then serve.
TIP If you are unable to get dandelion leaves for this recipe you can also use kale or cavolo nero (black kale) as an alternative. Follow the method given above, but boil the greens for about 8-10 minutes.

You can find more Italian recipes from foraged foods here
And there are plenty more delicious Italian-inspired recipes here
Tags:
food
,
Food & Wine
,
Italian food
,
Italian Recipes
,
Recipes