This makes quite a lot of pesto, so if you have too much for the pasta you can pop the excess in a container and keep it in the fridge, under olive oil, for a few days.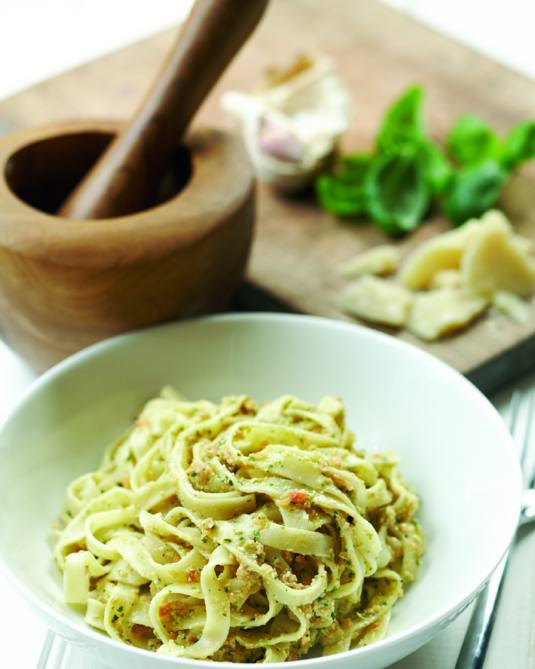 Tagliatelle with
pesto trapanese
Tagliatelle al pesto trapanese
Serves 2 – Preparation 10 minutes – Cooking 10 minutes
Ingredients
200g tagliatelle
1 garlic clove, peeled
large handful of basil
salt and freshly ground black pepper
60g skinned almonds, finely ground
6 plum tomatoes, peeled, seeds removed
40g Parmesan or Grana Padano, grated
50ml extra-virgin olive oil
Method
Bring a saucepan of salted water to the boil, add the tagliatelle and cook according to packet instructions.
Meanwhile, pound the garlic, basil and salt together in a pestle and mortar. If you are pushed for time you can use a food processor, but a pestle and mortar produces a smoother result.
Add the almonds, tomatoes and Parmesan to the basil in the pestle and mortar, then mix in enough olive oil to reach the desired consistency. Pound to bring all the elements together. Add black pepper and salt, if required.
Drain the pasta, but save a little of the pasta cooking water. Return the pasta to the pan (off the heat) and stir in the pesto. Add a little of the pasta water to loosen the sauce, if necessary.