These peppers can be eaten on their own as an appetiser or, more commonly, as part of a classic antipasto. Recipe & image by Mario Matassa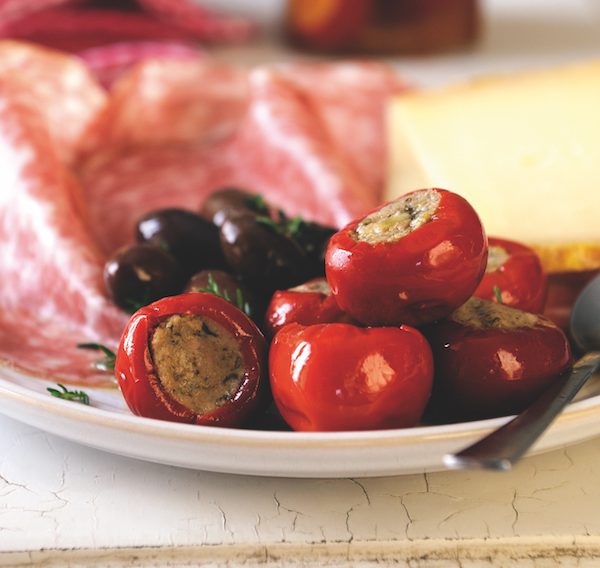 Makes 4 x 250g jars
Preparation time 20 minutes, plus resting time
Cooking time 5 minutes
Ingredients:
• about 20 small round smooth-skinned spicy red peppers
• 250ml white wine
• 250ml white wine vinegar
• a pinch of salt
• 1 tsp capers preserved in salt
• 160g tin of tuna in olive oil
• 4-5 anchovy fillets in olive oil
• 1 tbsp finely chopped flat-leaf parsley
• about 300ml extra-virgin olive oil
Instructions:
1 To prepare the peppers, remove the tops and seeds with a small, sharp knife. It is important to keep the peppers whole. In a large pan, bring the wine, vinegar and a pinch of salt to the boil. Then add the peppers and boil for 2 minutes. 
2 Remove the peppers with a slotted spoon, drain well, then leave them to dry on a clean tea towel for 3-4 hours, turning them a few times. In the meantime you can make the filling. 
3 Rinse the capers under running water to remove the salt, then place in a food processor with the tuna, anchovies and parsley. Blend to a paste. 
4 Fill the cavity of each pepper with 1 tsp of the tuna mixture. Continue until all the peppers are stuffed and all the stuffing has been used. Pack the stuffed peppers into clean sterilised jars and cover with extra-virgin olive oil. Ensure that the olive oil covers the stuffed peppers, then secure the lids. 
5 Wrap the jars in a tea towel and place into a large pan filled with water. Ensure that the water level is at least 4cm above the top of the jars. Bring the water to the boil and boil the jars for 25 minutes. Turn off the heat and allow the jars to cool in the water. When cold, remove the jars of stuffed peppers from the pan and store in a cool, dry place.
Find more Italian preserve ideas here
You can find plenty more delicious Italian-inspired recipes here