This delicious tart recipe by Mario Matassa uses a hard ricotta and it makes for a wonderful picnic accompaniment or weekend lunch…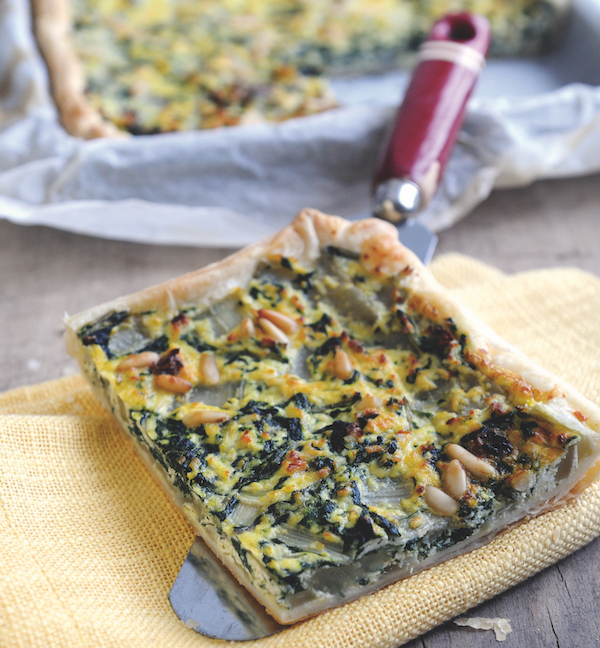 Serves 4-6
Preparation time 5-7 minutes
Cooking time 30-35 minutes
Ingredients:
• 500g Swiss chard (or other greens such as cavolo nero or kale)
• Sea salt and freshly ground black pepper
• 2 medium free-range eggs
• 240g grated mature sheep's milk ricotta
(ricotta salata/stagionata)
• 2 tbsp sultanas
• 1 tbsp toasted pine nuts
• 1 sheet of ready-rolled puff pastry
Instructions:
1 Begin by washing and chopping the chard and placing it in a large saucepan of lightly salted water. Boil for 7-10 minutes until tender. Drain the chard and then set it aside to cool.
2 Meanwhile, in a large bowl, mix together the eggs, grated ricotta, sultanas and pine nuts. Finally add the chard and season to taste. Be careful, as the ricotta can be salty.
3 Unroll the pastry and line a baking dish. Spread the chard and cheese filling evenly over the pastry and bake in a preheated oven at 180ºC/Gas Mark 4 for 20-25 minutes. The tart can be served warm or cold.
Click here for more on Italian cheese (plus links to more delicious formaggio recipes!)