Mario Matassa shares a tempting Italian fruit salad recipe – this macedonia con sciroppo al basilico is a perfect dessert for hot summer days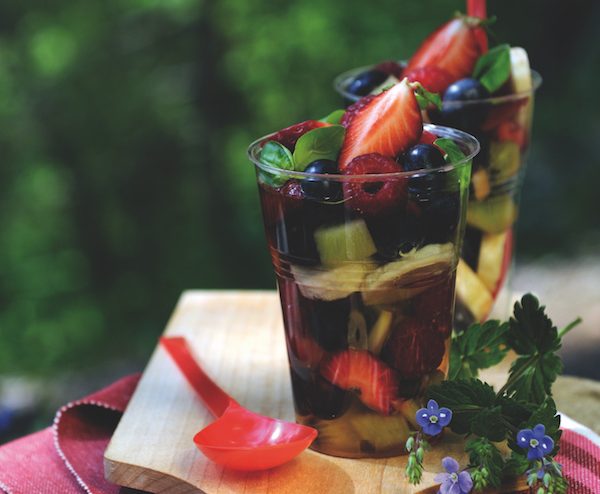 Serves 4
Preparation time 15 minutes 
Cooking time 10 minutes
Ingredients:
• 500ml water
• 100g caster sugar
• a handful of fresh basil leaves
• 250g fresh strawberries, washed, chopped
• 125g fresh raspberries
• 125g fresh blueberries
• 2 ripe bananas, peeled, chopped
• 2 ripe kiwis, peeled, chopped
• the juice of ½ a lemon
Instructions:
1 To make the basil syrup, pour the water into a saucepan and add the sugar and basil leaves. Simmer very gently for around 10 minutes. Strain the liquid to remove the basil leaves, then leave to cool. Once cooled, place in the fridge to chill. 
2 Place the strawberries along with the raspberries, blueberries, banana and kiwis into a large bowl. Squeeze over half a lemon to stop the fruit, especially the banana, from discolouring, then stir gently together. 
3 When ready to serve, spoon the fruit directly into cups or bowls and top up each dish with the chilled basil syrup.
Find more Italian-inspired recipes here