A recipe for 'Cheat's' Mimosa cake – Torta primavera 'furba'
By Mario Matassa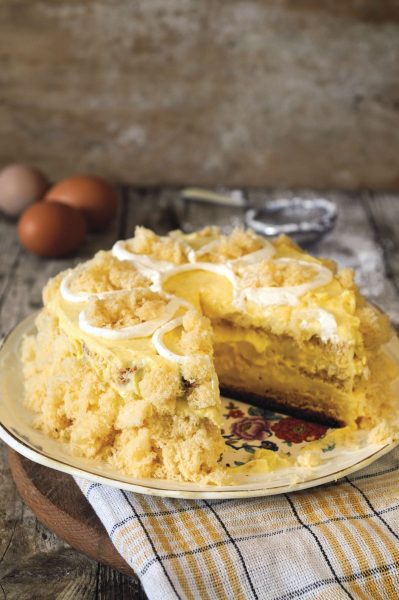 This cake is an amalgamation of two cakes synonymous with the season: Mimosa and Colomba (which means 'dove').
Mimosa cake first made an appearance to mark International Women's Day on the 8th of March (Festa della Donna in Italy).
It's so called because the cake resembles the yellow mimosa flower, which is traditionally used to symbolise the occasion.
Colomba is an aromatic yeasted cake shaped like a dove. I call this my 'cheat's' cake because rather than bake the sponge to make Mimosa, I've used a Colomba as the base (widely available in supermarkets).
It's the perfect cake for those occasions when time is short!
➤ MAKES one approximately 22cm cake
➤ PREPARATION 20 minutes, plus chilling time for the cream
➤ BAKING 10 minutes
FOR THE CAKE
• 1 Colomba cake (alternatively, panettone or pandoro work equally well)
FOR THE CREAM
• 300ml whole milk
• 2 medium free-range egg yolks
• 1 heaped tbsp plain flour
• 2 tbsp caster sugar
• 250ml cream
• icing sugar to serve
To make the cream, gently heat the milk, but do not boil. While the milk is heating, whisk the egg yolks together with flour and sugar in a bowl. Add a little of the warm milk to the egg mixture and stir well. Then add the egg mixture to the rest of the milk and heat until gently boiling, stirring all the time. Cook for a few minutes until the cream thickens. Set aside to cool completely. Once cold, whip the cream until stiff and fold into the patisserie cream.
When the cream is cool you can start assembling the cake. Remove the packaging from the Colomba cake. Place the cake on a large cutting board and place a round cake tin centrally over the top. With a sharp knife, carefully cut around the tin, pressing down into the cake as you cut. Set aside the trimmings for later. Carefully slice the crust off the top of the cake, then proceed to slice three even layers. Then, cut the trimmings into small cubes.
Put the first layer onto a serving plate and spread evenly with the cream. Repeat this for the second layer. Add the third layer and spread the remaining cream over the top and the sides. Press the trimmings over the top and around the sides, sprinkle with icing sugar and serve.
Tip: Put the Colomba cake trimmings in an airtight container and they will keep for several days, or until somebody finds them!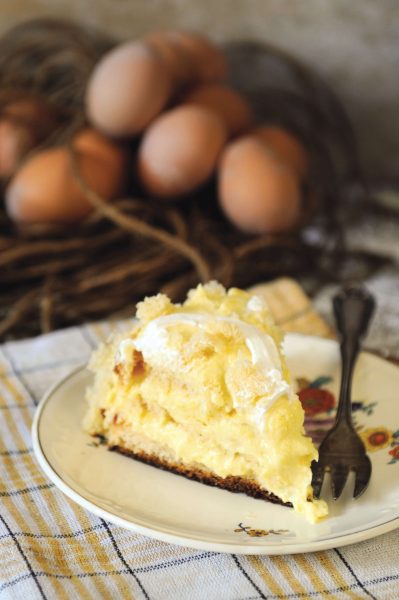 Cake
,
dessert
,
Mario Matassa
,
Recipes