Fancy making a real saffron risotto (risotto alla milanese)? Mario Matassa shows us how. Remember that it should be creamy and soft, and each grain of rice should be separate but joined together by the sauce. Buonissimo!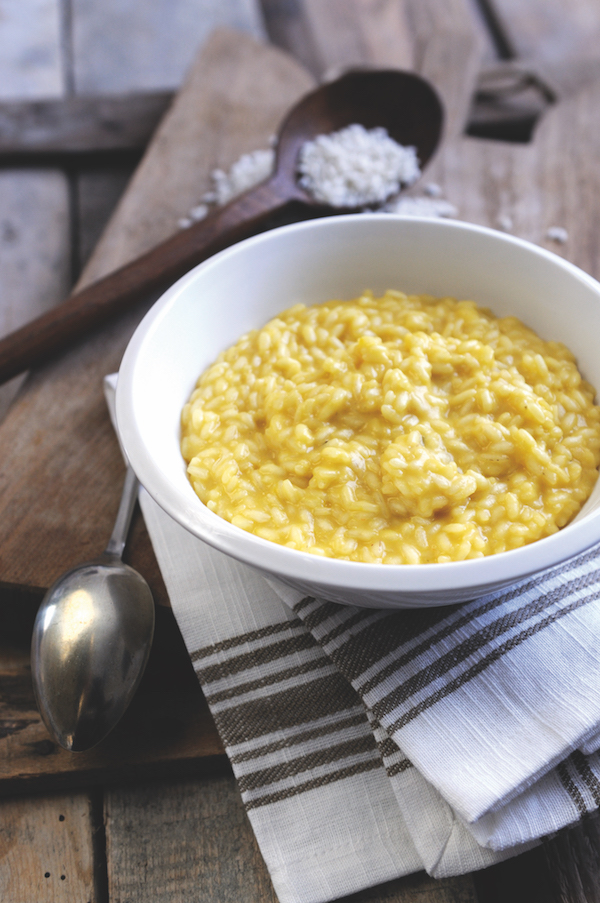 Serves 2
Preparation time 10 minutes
Cooking time none
Ingredients:
• 50g unsalted butter
• 30g beef marrow
• 2 tbsp beef fat (optional)
• 1 small onion, peeled, finely chopped
• 350g Italian risotto rice, such as Carnaroli, Arborio or Vialone Nano
• 2-3 litres of good-quality stock
• A pinch of saffron strands, or a packet of powdered saffron
• A knob of unsalted butter, to finish
• Freshly grated parmesan
Instructions:
1 Place the butter, beef marrow, beef fat (if using) and onion in a saucepan. Cook over a low heat until the onion is softened, but not browned. Add the rice and stir well, making sure that each grain is coated.
2 While the onion is cooking, start heating the stock in a separate saucepan. Once the rice is coated in oil, add a couple of ladlefuls of stock to the rice. Continue to stir the rice with a wooden spoon. As the stock evaporates and is absorbed, continue to add the stock a ladleful at a time, until the rice is cooked. The rice should retain some bite when cooked and take no more than 14-18 minutes, depending on the type of rice used.
3 If you are using saffron strands, add these dissolved in a ladleful of stock about two-thirds of the way through cooking. If you are using powdered saffron, this should be added at the end of the cooking time so that it does not lose its fragrance.
4 When the rice is cooked, set the pot aside for about 2 minutes. This step is important. After 2 minutes, stir in a large knob of butter and plenty of parmesan cheese (this is known as mantecare – literally, making it creamy). Serve immediately.