Polpette – made from meat, fish or vegetables – can either be prepared from leftovers or made with fresh ingredients. Mario Matassa shares this classic dish…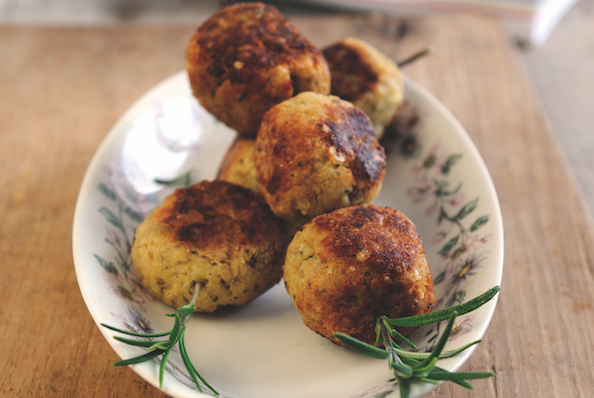 Serves 4
Preparation time 15 minutes
Cooking time 15 minutes
Ingredients:
• 350g leftover boiled or roast meat (chicken, turkey or beef)
• 2 slices of day-old bread
• a few tablespoons of milk
• 80g Parmesan, grated
• 1 free-range egg
• a sprig of rosemary and sage, chopped
• salt and freshly ground black pepper
• grated zest of ½ an unwaxed lemon
• olive oil, for frying
Instructions:
1 Put the meat in a food processor and whizz it up for a minute, until it has been finely chopped. Or you could chop it by hand if you like. Place the chopped meat in a large bowl.
2 In a separate bowl, add the stale bread and a few tablespoons of milk. Leave for a few moments, until the bread has softened. Add the cheese, egg, bread, herbs, seasoning and lemon zest to the meat and mix together well. The mix should be a consistency that allows you to mould small meatballs with your hands. If it is too wet, add a few dry breadcrumbs; if it is too dry, add a little milk. Form meatballs from the mixture, until the mixture is all used up.
3 Heat a little olive oil in a frying pan, then fry the meatballs over a medium heat on all sides, until browned and cooked through.
Click here for Mario's feature on using up leftovers, Italian-style (plus links to more delicious recipes!)