Mario Matassa's Torta di lepre e funghi does require some effort, but you will be rewarded with a unique and flavoursome pie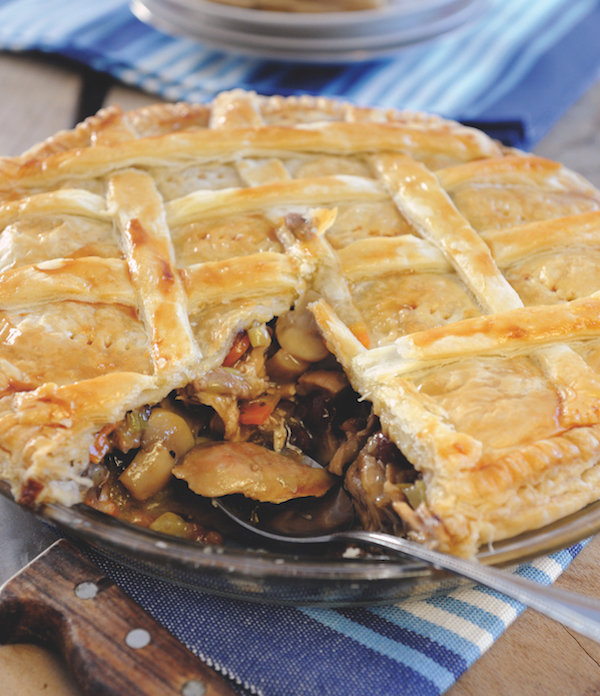 Serves 4
Preparation time 1 hour plus marinating
Cooking time 2 hours 
Ingredients:
For the marinade:
• 350ml red wine
• 1 carrot, peeled, finely chopped
• 1 celery stalk, finely chopped
• 1 onion, peeled, finely chopped
• 1 garlic clove, peeled, finely chopped
• a few fresh bay leaves
• a sprig of rosemary
• 1 tbsp black peppercorns, crushed
For the pie:
• 600g hare meat, off the bone, cut into small pieces
• 50g plain flour
• a few tablespoons of olive oil
• 1 carrot, peeled, finely diced
• 1 celery stalk, finely diced
• 250g button mushrooms, sliced
• a sprig of rosemary
• 200g dried cranberries
• 350ml dry white wine
• salt and freshly ground black pepper
• 1 sheet of ready made puff pastry
• 1 small free-range egg, beaten
Instructions:
1 Mix the marinade ingredients together in a large bowl, add the meat, then leave overnight in a cool place.
2 The next day, remove the meat from the marinade, pat dry with kitchen roll and dust with the flour.
3 In a large, heavy-based pan, sauté the carrots and celery in oil until tender; remove and set aside. In the same pan heat extra oil, then brown the meat gently. Return the carrots and celery to the pan with the mushrooms and rosemary. Mix well and leave to cook for a few minutes.
4 Add the cranberries and wine. Season, cover with a lid, and simmer for about an hour. If it begins to dry out add a little extra wine.
5 Meanwhile, preheat the oven to 180ºC/Gas Mark 4. Once the meat is cooked, remove from the heat and leave to cool for 10 minutes. In the meantime, line the base of a 22cm pie dish with half of the pastry.
6 Carefully add the stew mix to the dish. Cover the top with the remaining half of the pastry and crimp the sides with a fork. Make a few air holes in the pastry with a toothpick, then baste with beaten egg. Place the pie in the oven and bake for around 1 hour.
You'll find more hearty game recipes from Mario here
Tags:
food
,
Food & Wine
,
Game
,
Italian Foodie
,
Italian Recipe
,
Pie
,
Recipes