Mario Matassa shares a recipe for grilled vegetables with couscous (couscous con verdure grigliate) – a perfect complement to any barbecue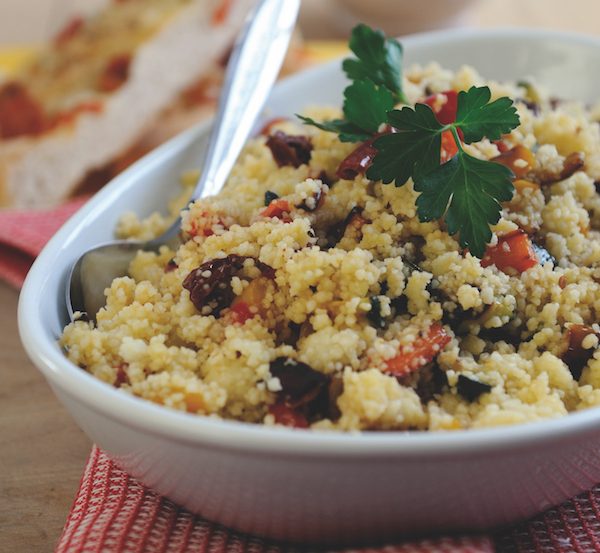 Serves 4-6
Preparation time 10 minutes
Barbecuing time 10 minutes
Ingredients:
• 2 courgettes, sliced lengthways
• 1 red pepper, core and seeds removed, sliced
• 1 yellow pepper, core and seeds removed, sliced
• 1 small aubergine, sliced lengthways
• 300g couscous
• 2 tbsp sun-dried tomatoes in oil (about 10 halves), finely chopped
• 3 tbsp extra-virgin olive oil
• 1 tsp dried or fresh oregano
• salt and freshly ground black pepper 
• flat-leaf parsley, to garnish 
Instructions:
1 Place the courgettes, peppers and aubergines over the barbecue and cook for 3-4 minutes on each side, until cooked. Remove the vegetables from the grill and finely dice. 
2 Make the couscous according to the packet instructions. Once cooked, add the grilled vegetables, sun-dried tomatoes, olive oil, oregano and seasoning. Stir everything together, garnish with flat-leaf parsley, then serve warm or cold. 
TIP This is a great way to start a barbecue. Not only will the couscous serve as an excellent primo piatto, substituting for the usual pasta, but vegetables will always take more kindly to the flame of a young barbecue than meat will. Furthermore, if you cook them first, their delicate flavours will not be overwhelmed by the residual flavours of the meat you are going to cook later.
Find more dishes and Mario Matassa's feature on Italian barbecues here
You can find plenty more delicious Italian-inspired recipes here