Mozzarella in carrozza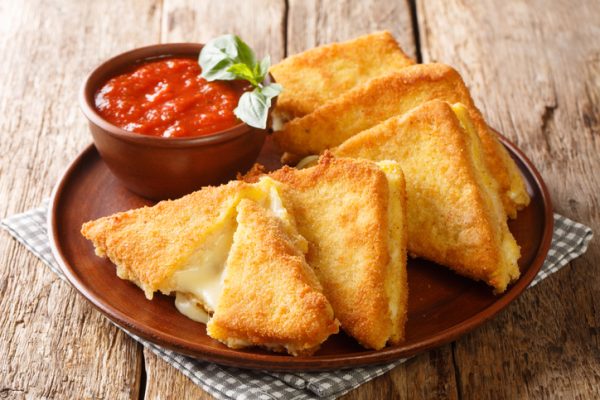 Mozzarella in carrozza is a tasty treat born in Napoli, which has become particularly popular in Venice. Like an elevated version of the classic grilled cheese (or toastie, if you prefer), this sandwich features fresh mozzarella, and is fried in a delicious golden batter.
For true Venetian style, add a slice of ham or anchovies when building your fried mozzarella sandwich.
Ingredients:
One 125g ball of mozzarella, cut into 0.5cm slices
100-125ml fresh milk
50g plain flour
One large free range egg
Salt and pepper
Rapeseed oil for frying (or use a light olive oil)
4 slices pan carré or white sandwich bread, crusts removed
Method:
Place the slices of mozzarella on two slices of the bread. Leave a gap around the edges, then top with the other pieces of bread to make two mozzarella sandwiches. Press the edges together firmly to seal the sandwiches well.
Get three bowls – one for the milk, one for the flour and one for the egg which is beaten with salt and pepper.
Heat the oil gently in a deep frying pan – it shouldn't be smoking. Put each sandwich into the bowl of milk, then into the flour and coat well. Finally coat in the beaten egg.
Fry the sandwiches in the hot oil, turning them so each side crisps up and looks golden.
Drain on kitchen roll to soak up the excess oil, and then cut in half diagonally.
Eat warm – be careful the melted cheese will be hot!
Find more recipes in our archive.
Featured photo © ALLEKO via Getty Images