When in Venice it's great to be able to grab one of these delicious fried mozzarella toasts for a snack. The sandwiches are dipped in a batter before frying, but it's simple enough to just dip them in beaten egg and then breadcrumbs for the crusty effect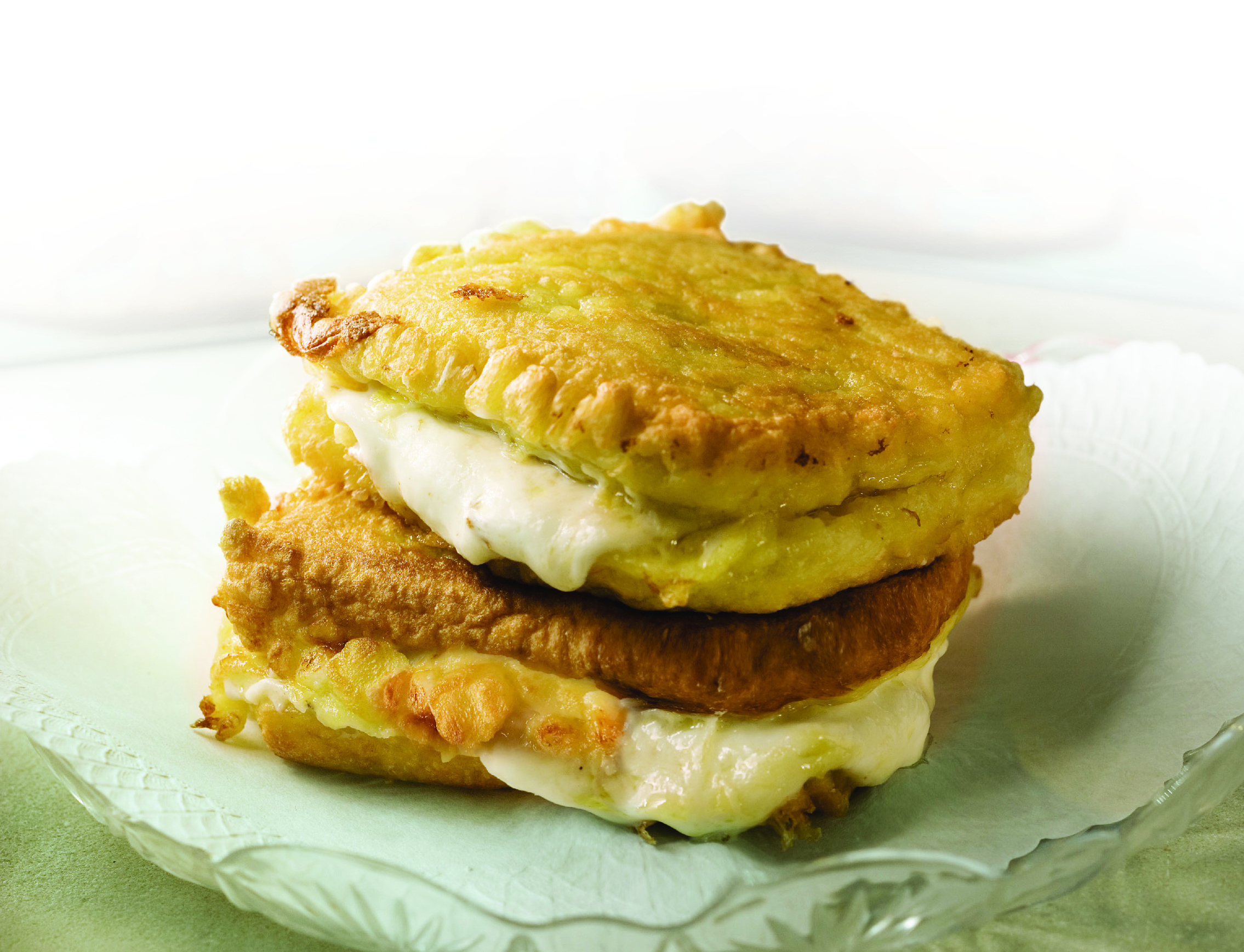 Fried Mozzarella Toasts (Mozzarella in Carrozza) Recipe
Ingredients
Béchamel sauce:
1 scant tbsp butter
3 tsp plain (all-purpose) flour
125ml (4 fl oz) warm milk
A grating of nutmeg
Dipping mixture
2 eggs
1 tbsp milk
A pinch of salt
Flour, for coating
Dry breadcrumbs
For 2 mozzarella & ham sandwiches
4 slices pan carré or white sandwich bread, crusts removed
4-6 slices (not too thick) mozzarella
1 large slice of ham, halved or
2 small pieces ham
Light olive oil, for frying
Method
To make the béchamel, melt the butter in a small heavy-based saucepan.
Whisk the flour into the butter and cook for a few minutes, stirring. Reduce the heat to low, then add half the warm milk, whisking well. Add the rest of the milk, a grating of nutmeg and some salt. Keep whisking until the sauce is smooth and thick, then remove the pan from the heat, cover and set aside to firm up a bit. Even completely cooled, this is fine to use.
To make the dipping mixture, beat together the eggs, milk and salt in a flat bowl.
For the mozzarella and ham sandwiches, spread 1 scant teaspoon of béchamel over all 4 slices of bread, right to the edge. Lay a piece of ham and 2 or 3 slices of mozzarella onto 2 pieces of the bread so that the topping comes right to the edge. Top with the other pieces of bread to make two sandwiches and press together firmly to seal well.
Heat the oil in a pan – not too hot. Pat the sandwiches in flour, then dip in the dipping mixture to coat well.
Shake them out of the mixture and let then drain off a bit, then press in the breadcrumbs to coat all over. Fry in the hot oil, turning when golden and crisp on the bottom to cook the other side, then transfer to a plate lined with kitchen paper.
Eat warm, taking care not to burn your mouth on the hot filling.
Tags:
food
,
Foodie
,
fried
,
Italian
,
Italian food
,
Italy
,
mozzerella
,
recipe